Babyliss 7056 CU Cordless Rechargeable All-Over Grooming Kit (8 In 1)
3 min read
The company Babyliss is known for producing finest beard trimmers. They are available in the market and you can get them according to your choice and needs. It is a wise purchase to buy their products for your grooming needs. This model of Babyliss is a favorite of many men. It is because it comes with everything you will need. The product has a lot of positive reviews from it users which makes it more appealing. As you can tell from the name, it is an 8 in 1. You can use it for shaving, detailing, taking care of the ear and nose hair and trimming the beard.
Related articles about Babyliss 7056 CU Cordless Rechargeable All-Over Grooming Kit (8 In 1)
Babyliss 7056 CU 8-in-1 Grooming Perfection Review
BABYLISS SUPER STUBBLE FOR MEN TRIMMER REVIEW
BABYLISS 7895 U FOR MEN I-STUBBLE plus beard trimmer review
Product benefits
It comes with attachments that you can need from time to time. You can give this as a gift because it is an 8 in 1 set. The price is reasonable. It is difficult to image to get the services of a foil shaver, detailer, nose and ear hair trimmer at this price. It will take care of your facial hair and let you style it anyway you want. The brand has a reputation for guarantying customer satisfaction with their excellent products. It comes with a stand that you can use for charging. The package also includes lubricating oil so that you can take care of the blades. If you do not use the trimmer often, the charge will last a long time. If you can clean the trimmer effectively, the performance of it will be super.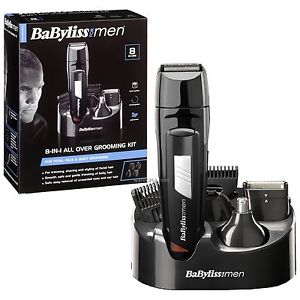 Product disadvantages
Although there are positive reviews, there can be some negative sides to it. The cons will not cause any trouble for you if you are not a beginner. The parts and equipment are not for men shaving for the first time. If you have never used a beard trimmer before, do not think of buying it. If you are an expert, then there is no problem. The ear and nose hair trimmer is not effective nor useful. The beard trimmer works excellent though. You cannot put in water which can also be a problem when it is about maintenance. If you have a waterproof beard trimmer, you can wash it off in a second without trouble. The blades are also not self-sharpening so taking care of them can be tough too. It is also not water resistant so you have to be careful during usage. If you are thinking of clean shaving, it will not be helpful as it can take a lot of time. You cannot use this for your head. If you use it as a wireless one, it will have less power. That is why, plug it in during usage if you need a lot of power. It is not perfect for sensitive skin. The charging time is too much when comparing with other beard trimmer in the market. It is 16 hours for a runtime of only 40 minutes.