BaByliss for Men 7180 U Red/Blue (Mini Trim) 3-in-1
2 min read
As you can tell from its name, it is a small beard trimmer that also services for other purposes. It is a 3 in 1 because it has the rotary head (nose hair trimmer) and the other two heads for your facial hair grooming needs. You can style your moustache, sideburns, and beard anyway you like.
Related articles about BaByliss for Men 7180 U Red/Blue (Mini Trim) 3-in-1
Babyliss 7056 CU 8-in-1 Grooming Perfection Review
BABYLISS SUPER STUBBLE FOR MEN TRIMMER REVIEW
BABYLISS 7895 U FOR MEN I-STUBBLE plus beard trimmer review
Product overview
It is a small beard trimmer from BaByliss. The company manufactures some excellent beard trimmers that many men loves. The device comes with a rotary head for the ear and nose. It has a vertical head with 5 position comb guide for lengths between 2 mm to 10 mm. It is also suitable for trimming the eyebrows. The heads are washable so maintenance is easy. It comes in two colors: red and blue. You can trust products from BaByliss as they examine their products many times before putting it up for sell.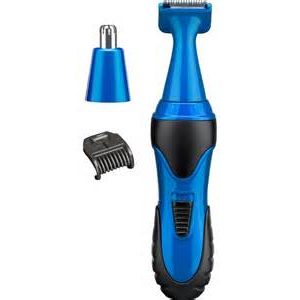 Product advantages
It is an excellent beard trimmer that will let you trim your facial hair smoothly. The nose hair trimmer also works perfectly unlike many other ones available in the market. The body of the trimmer is perfect for usage. It is an easy hold so you will not drop it. It is small and light so you can take it during travel. The price is reasonable. It is difficult to image a superb beard trimmer at this price. It is not that sharp so there is no reason to worry about wounds, nicks and cuts. If you see the device, you will notice the structure of its body makes it solid and firm. The attachments are well-built and attaches effortlessly to the tool.
Product disadvantages
If you drop it once or twice, it will break. The price of this beard trimmer is less compared to other ones therefore, it is fragile and flimsy. It will not be able to cut stubborn hair. The trimmer is suitable for sideburns but can get stuck on the beard. The nasal trimmer can get warm if you are using it for more than few minutes. It is not safe for men with sensitive skin as it can cause rashes if you use it for eyebrows. It has an eye appeal but the performance is not superior. If you want a service that is going to be flawless, you have to increase the budget.
Product warranty
You will get a warranty of one year. If you want a refund you have to return their product within 14 days so that they will send the money. The product should be in a proper condition or because BaByliss does not take back products when the user causes the damage. They prefer saleable products instead of faulty ones.