You can put all your trust into Braun's products and they will not disappoint you.  The BT 5050 from this brand is reasonable in price but the manufacturers did not sacrifice the features or quality. If you are someone who is looking for a device to maintain your facial hair and tired of scissors, you should pick this tool from Braun.
Related articles about Braun BT 5050 for Men Beard Trimmer Review
Braun HC 5090 Hair Clipper and Beard Trimmer Review
BRAUN BT 5010 BEARD TRIMMER REVIEW
It is quick and simple to use, read below to find out if it is suitable for you.
Product overview
It comes with 25 different length settings which is all you need to get the perfect facial hair. It has extra sharp blades and dual battery. The operation time is 50 minutes. You have to plug it in for 8 hours.  You can wash it under the running water of the tap. You do not have to worry about charging since you can plug it in and continue usage.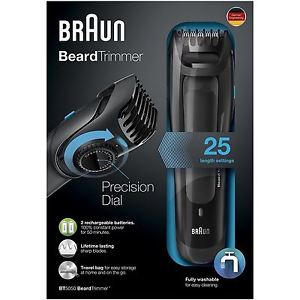 You can get a five o'clock shadow look to a full beard with this. That is possible because of the option of 25 different length settings. It will test your patience though because you have to find out which works best for you. One good advice is to start from a high setting and go down to find your match. You do not want to cut off the beard that you have been growing for a long time.
The charging time is length which is eight hours. You can use it as a cordless device for 50 minutes. There is a LED light indicator that becomes green telling you to plug the unit. You can also plug it in for usage, as mentioned above because it also works as a corded one.
Even though the lengths are from 1.0 mm to 10. 0 mm, you can put the long comb which is 20 mm. That is how you get your full beard. The device will run perfectly without disturbance for years if you can take care of it. For its upkeep, you will find the cleaning brush and a bottle of oil in the package.
To get the best results, you might have to go over the same area. That varies from user to user because some people find it to clean their beard in one go. It is one of the best trimmers for styling. Not all beard trimmers are suitable for maintaining full beard or stubble. It can do both.
The huge options in length settings allows a lot of styling and there is the cleaning kit. The design is durable and long-lasting. The only problem could be that it makes a little noise during charging which is uncommon in typical beard trimmers. You can easily ignore than since that noise does not affect trimming.