Braun Series 9 9095 cc beard trimmer review
3 min read
When thinking of the best beard trimmers, Braun should come to your mind. The 9095 CC is used for wet and dry trimming and has a lot of positive reviews from users online.
Related articles about Braun Series 9 9095 cc beard trimmer review
Braun Series 9 VS. Philips Norelco 9000 Series
Braun Series 7- 790cc Pulsonic Shaver System Review
Braun Series BT 7050 Beard Trimmer Review (Series 7)
When you first open the box, you will get impressed by the design and the quality of the product. You will understand that it is well-built and the manufacturers have used first-class technology to design it. It is lightweight but compact. That is why you will be able to grasp it easily and it will fit your hand without trouble. You will get a cleaning and charge station, a plug, a cartridge to clean, dusting brush and an original leather pouch you can use during travel. It can be a bit expensive though compared to other beard trimmers but if you get it on offers or sale, you will able to make a profit. It is excellent and worth every dime you pay. Getting it in an offer will make you feel like a winner.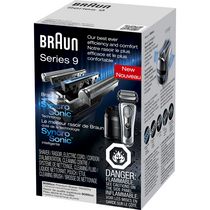 Usage and operation
The head comes with Syncro Sonic Technology which lets it have three different trimming elements.  The first part pushes the facial hair in one route for simple trimming, the second part is used to life hair and the last part is to even out stubble and chop it away. During the use, the beard trimmer makes sonic vibrations hat permits the device to create 40, 000 cross cutting movements each second. All these qualities result in fast and easy usage. Even in critical areas, the Braun device makes it painless and relaxed. You can use it as both dry and wet and you will get first class results from both.
Battery and charging
The Series 9 will provide 50 minutes of full power if you charge it for an hour. You might find this to be a disadvantage compared to other electric shavers because they require less charging and run for a long time. The grip comes with a LCD display that informs the exact number of minutes left before you have to charge it. It is an excellent feature so you know much you can use it.
Maintenance
Since it is for wet shaving, you can use it in the shower. You can clean it with water because it is waterproof. If you drop it in a bathtub full of water, you do not have to worry about damaging it. It can stand up to 5 meters. The cleaning station will aid you to keep the head clean and germ-free. The session will take around 45 minutes. You have to replace the charging and cleaning station every 2 months. The trimmer has to be replaced as well once a year.  You can buy parts separately from the web.
Conclusion
As this device utilizes a multi-step method to result in a close shave, there is no chance of irritation and the hair do not get cut into their pores and there is no risk of ingrown hair. If you have sensitive skin, this is ideal for you because there is no inflammation. Still, if you want more comfort, add shaving foam or soap.