If you have heard about the GMT 900 that is without the letter "R" in the name, you should know a lot about this already. They are similar in many ways and differs in few ways we will discuss below. As you can tell from the name, it is the revised version of the old one. It is better and improves but users say they do not find any difference between the two. They both have the flexible head, well-built structure and easy to use interface.
Related articles about Conair GMT 900 R I Stubble and Facial Trimmer Review
Conair Model: GMT100NCS Battery-Operated Beard and Mustache Trimmer Review
Conair The Chopper 2 in 1 Customer Styler – 24 pieces Clipper/Trimmer
Conair GMT 189 13-piece Beard Trimmer Review
The appearance of this beard trimmer can be somewhat more stylish and sleek than the old one. Just like the old one, it is suitable for stubble and goatee. If you want a long beard, it will not be helpful. The smallest setting is 0.4 mm which is used for the 5 o'clock shadow look. It goes up to 5.0 mm. It is durable and solid so if you can take proper care, it will last for years. The shaving experience will be nice because the result will always be the stubble you desire.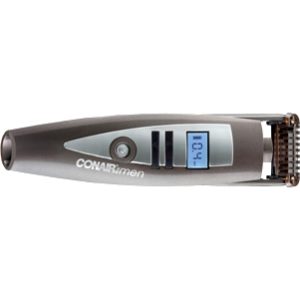 The difference is that the GMT 900 delivers a warranty of 2 years where as this one offers for only one year. It is newer and more advanced which results in the difference between their cost. That is the reason most people opt for the previous model because they find them both to be similar. The flexible head matches with the bend of the face and is easy to trim hair. The trimming experience is completely painless. The device completes the work in a small time. It is heavier than the previous model.
The best part is that there are no extra attachments or accessories and you can use this with ease. It is completely automatic because of its motorized interface. You do not have to worry about the guides, combs and other parts getting lost. There is the option for fast charging so you can use it during emergency. If there is a problem with the usage, you can always refer to the instructions manual. That is clear and easy to understand and comes in both Spanish and English. The LCD display will let you know about the measurement and how much charge is left. Your hands will always be comfortable because of its ergonomic design.
Since it does not come with any attachment, do not put any extra accessory that you purchase separately. Before cleaning the tool, take the plug away. Do not let the device come in contact with water. If you can take proper care, it will last for years.