There will be no stress or mess using Geepas beard trimmers. With the GTR 8290 Beard Trimmer you will receive both as the unique design accompanies features that makes shaving a fun experience. Who does not like a simple device to take care of their grooming needs? If you want power you should pick this because after being fully charged, it provides a lot of power. The device is perfect for those who likes durability and quality
Related articles about Geepas GTR 8290 Beard Trimmer Review
Geepas GTR 34N Beard Trimmer Review
Philips QT4011/15 Pro Skin Advance Trimmer Review
Appearance
It comes in three different colors: red, blue and green. You can pick one you like for your grooming needs. It has seven various lengths with charging indicator light. It has a modern and clean design that will look perfect in your bathroom counter. It does not come with a stand though. It is a rechargeable device that has internal battery.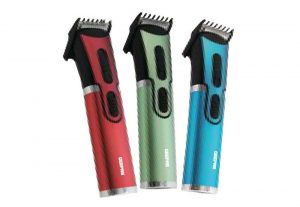 Battery life and charging
If you charge it properly for 180 minutes, it should be capable of working for 40 minutes. The service is excellent compared to many other beard trimmers in the market. Once you charge, it should be able to provide you service for two weeks. Do not forget to charge it again because it takes 3 hours. With its and simple and plain design, the 8290 can be a pleasant addition in your bathroom. It might lack extra lengths setting for truly adding and carving your beard but you can still utilize the options it provides. If you can keep beard hairs out of this device and keep it clean, you should be able to extend its lifetime. The battery indicator will tell you when the user has to plug it in, when there is no charge or when the battery life is full.
Maintenance
If you can take care, it will last for years and you do not have to spend money on another beard trimmer. It should be sufficient to give you the look you want. You have to utilize the cleaning brush that comes along with the package which will help you to keep it clean and work like brand new. You should make sure that you get all the hairs out of this device before keeping it away. There is cleaning oil which further aids in maintenance and perseverance of this trimmer. The device works better than any scissors when you are thinking of getting a professional look. Not taking care of it can cause it to make rattling noises. Even though you might think that it is clean, hair and skin can still cause build up on the blades. It does not only cause problems in the device it will cause cuts and nicks on your skin. That will result in uneven shave, discomfort during the trimming session and buzzing noises. The motor will also not be powerful like before.
Conclusion
You can buy it because it is easy to use and comes in different colors. Usually, beard trimmers do not come in so many bright colors. They are mostly black, white or grey. You can use it to get the look you want and it is convenient and durable.