Kemei beard trimmers have a solid reputation for working smoothly and being durable. Here we will explore details about the KM 1008 which many customers look for online. If you want something durable and excellent, you should choose this.
Related articles about Kemei KM 1008 High Precision Hair and Beard Trimmer Review
Kemei KM 2599 Professional beard Trimmer Review
Kemei KM 610 Pro Electric Rechargeable Beard Trimmer Review
Kemei KM-3007 3 in 1 Men Electric Rechargeable Beard Trimmer Review
What is in the box
• The beard trimmer
• Charger
• Appliance oil
• Guard
• Instructions manual
Product summary
It is a popular model from the brand, Kemei and the model number is KM 1008. The cutting lengths vary from 0.6 mm to 6.0 mm. There is a special comb to control 4 settings. The blades are made from hard alloy steel. It can be used as both corded and cordless one. The input is 110/220 Volts. There is a powerful motor which makes it sturdy and robust. The design is ergonomic which makes it suitable for users.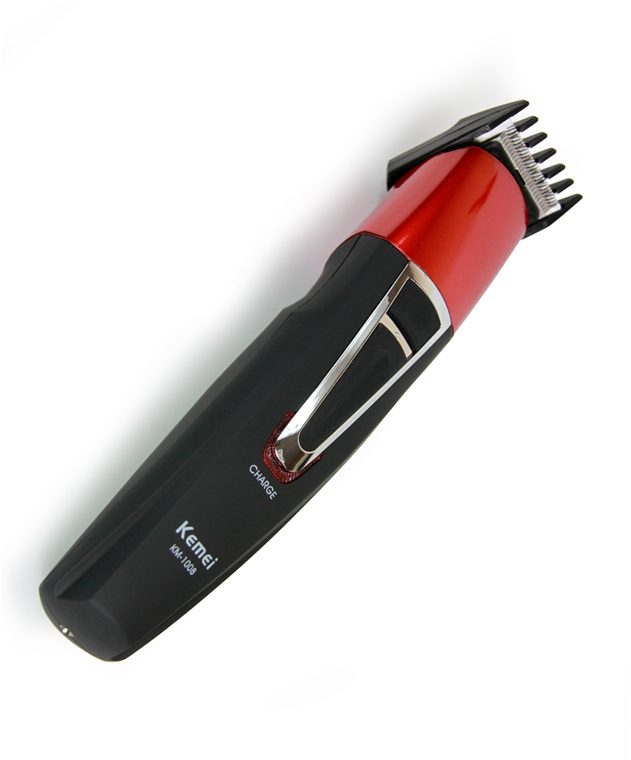 The higher the hardness of the blade, the greater will be the resistance to abrasion and friction. It is not going to be like the stainless steel but it will be much more tough and strong. The blades will last a long time and it will trim through hair with ease. It would slide over the facial hair as if there are no obstacles or hurdles on the way. This type of steel is famous for being hard. If there is any problem regarding the beard trimmer, refer to the manual. It is so simple to use that people using devices for their facial hair for the first time can use them with comfort.
Many other beard trimmers come with a lot of options, features and complications. Do not take this as a plus point because more options results in more complications. If you have something simple, the work becomes easy and effortless. You can get any look you want with this tool so there is no need of any extra attachments or options. There are many other beard trimmers in the market selling 8, 12 or 21 attachments. They come with a lot of unnecessary parts such as medium comb, scissors, barber comb, 13 guide combs, blade guard etc.
If you need to cut your hair, you can use this. It is completely safe for hair on the head. You do not have to go to the barber over and over again. You can save time and money. You have to charge it for 8 hours to make it work for 40 minutes. The design on the beard trimmer is sleek and stylish. It is red and black in color with the switch at the front part. You can use the oil to maintain its blades.