Kemei KM-3007 3 in 1 Men Electric Rechargeable Beard Trimmer Review
2 min read
If you are thinking that Kemei beard trimmers and hair clipper sets cost less because they do not come with enough or extra attachments and accessories, you will have to think differently. Many users prefer a simple and easy trimming so they prefer beard trimmers that does not come with too much items such as 5 guard combs, 1 scissors, 5 changeable heads etc. That is why Kemei lets the customers have a hassle-free experience. They are also suitable for beginners because they do not have any complications in them.  Although, if this is your demand or complain "I want many attachments to look stylish" then this 3007 is the perfect model for you.
Related articles about Kemei KM-3007 3 in 1 Men Electric Rechargeable Beard Trimmer Review
Kemei KM 1008 High Precision Hair and Beard Trimmer Review
Kemei KM 518A Electric Hair Clipper Beard Trimmer Review
Kemei KM 2599 Professional beard Trimmer Review
What is in the box
• 1 beard trimmer
• 3 Changeable heads
• 7 Removeable Cutting Combs
• 1 Cleaning Brush
• World Wide Voltage (depending on your location)
• Charger Stand or base
• 2 Rechargeable Batteries
• Appliance Oil
Features: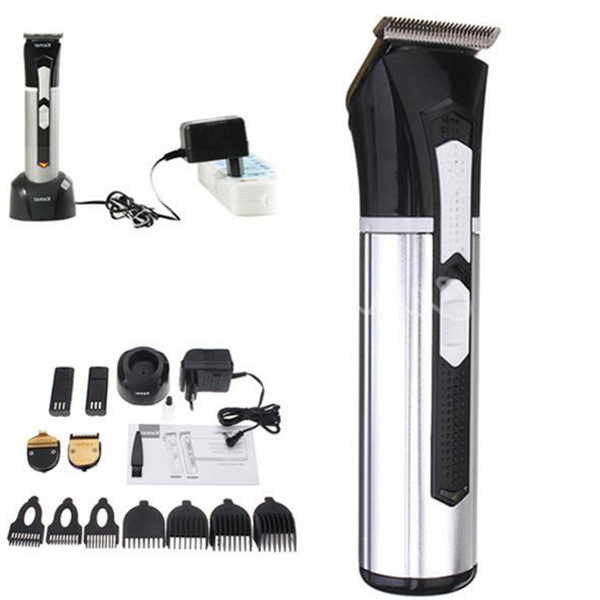 1. 3 in 1 grooming tool so you do not have to buy anything else for maintain facial hair. The user can utilize it for trimming beard, clipping hair on the head and styling, fixing and detailing.
2. Comes with a modern and innovative smart ergonomic design.
3. The grip or handle is anti-skid which makes application of this device a comfortable experience and it is easy to grasp
4. Self-regulating overall charging, pleasant and substantial, handiness. The company provides charger according to country
5. The control switch can regulate the distance among the blades, can carry out the adjustment of the distance of 2.5 mm /2.0 mm /1.5 mm
6. The chief switch can govern the action of the rechargeable beard trimmer and hair clipper.
7. There is a light indicator
8. Changing stand or base is there for supporting the whole apparatus during charging.
Performance and usage
It comes with a bottle of oil and you can use to maintain it. If you can take care of the tool, it will last for years. Kemei's beard trimmers are tough, solid and durable and this one is no different. It comes with a lot of attachments so you have to take care of those. You can use them to get the best of facial hair. You can carry out various facial hair styles on yourself. You can get the stubble look which is an attractive style for men nowadays. You can also maintain a long beard. The beard trimmer can make you look like a stylish, confident and brave person who is also ambitious. You have to charge it for 8 hours to make it work for 80 minutes. That is quite a long operation time and the trimming session will be noiseless.