Philips Norelco Beard Trimmer 3500 QT 4014/42 Review
2 min read
This Norelco beard trimmer appears somewhat different from the other members of the family. It is good-looking, silver and black in color and looks elegant and masculine at the same time. It is slime and sleek which makes it easy to grasp. The users love it not only because of its appearance but because of its features.
Related articles about Philips Norelco Beard Trimmer 3500 QT 4014/42 Review
Common Problems with Philips Norelco Beard Trimmer 3100
The Philips QT 4090 Beard Trimmer Review
Philips QT4011/15 Pro Skin Advance Trimmer Review
Product overview
It is for cordless use and you have to charge it for one hour. The usage time is longer than many other beard trimmer from this company and others. It is 90 minutes. The head is washable thus ensuring low maintenance. The tips and combs are rounded which makes it safe to use. The blades are self-sharpening and made from titanium which is another reason why you do not have to worry about its well-being. Philips products last a long time because they use high-quality materials. They have a reputation in the market for producing goods that work in a superb and outstanding manner.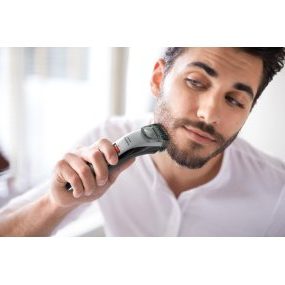 Hair Settings
It comes with 20 various settings that starts from 0.5 mm to 10.0 m. You do not have to worry about extra attachments or accessories because they are all built-in. The box contains only the cord for charging, beard comb, cleaning brush and the device itself. If you are someone who does not like worrying about the different attachments and have the fear of losing them, you should get this device. Since there is nothing to keep, there are no storage box or travel pouch etc.
Maintenance and Blades
The titanium is super strong and durable which is used to craft the device's blades. They are self-sharpening hence there are no bottle of oil in the box. All you have to do is, use the brush to clean the blades and you should have a beard trimmer that is shining like new. After usage, you can clean the head with water. It is not necessary to do that after each usage. It is also suitable for sensitive skin. The comb and tips will not cause any irritation in the skin hence they are rounded.
Battery life
The battery is NiCad rechargeable and in the box, you will find a cord. It is so convenient that you can use it as a corded one as well by plugging it in the outlet. If you are not willing to use it as a corded one, you should keep it charged. There is an indicator which an important part of the beard trimmer. If you charge it for one hour, you can get full power for 90 minutes. You can purchase this since it is easy to use and the users love this device.