Philips QG 3362/23 Review
3 min read
If you are someone who knows how important it is to be well-groomed you should also know that it is not easy. It gets difficult because you need to have a razor for a clean shave, a pair of scissors for trimming and not being able to maintain the overall length to be identical ends up to be a big issue. Youi do not want uneven facial hair. Also, men have to deal with unwanted nose and ear hair, in that case you have to purchase a separate nasal hair trimmer for that. If you can have that all-in-one kit that eases your grooming task and turns it from complicated to simple, you would love that. That is the experience you will have after getting the QG 3362/23 from Philips.
Related articles about Philips QG 3362/23 Review
Common Problems with Philips Norelco Beard Trimmer 3100
The Philips QT 4090 Beard Trimmer Review
Philips QT4011/15 Pro Skin Advance Trimmer Review
Product advantages and disadvantages
• Lightweight: Since it is light, you will feel like a breeze while using it to trim your beard. Also, another plus point of this benefit is that you can take it during travel because it does not add much weight in the bag.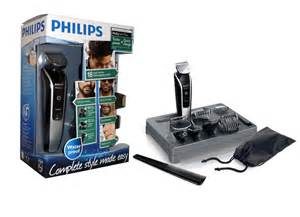 • Waterproof: You can use this during shower. If you are not a fan of wet shaving, do not worry. When a device is waterproof, maintenance becomes a piece of cake. The heads are washable so you can clean them with water.
• Battery indicator: You will know when the device is about to die and you can plug it back in. There is a light which acts as the indicator. The charge lasts for 50 minutes and it requires minimum amount of charge compared to its family QG3337/15 and QG3352/23 where both of them requires 10 hours of charging.
• Emergency charging: It comes with the special feature of rapid charging which is missing in many expensive beard trimmers. That will let you use that in a cordless mode and the duration is enough for a single trimming session.
• No oiling required: As mentioned above, maintenance of this device is low and upkeep is simple. It does not come with a bottle of oil because you do not have to oil the blades. It is something hard to find nowadays since most trimmer comes with appliance oil in the box and they require oiling.
• It can stop working like brand new after usage of one or two years.
• The users can press power switch by mistake and turn it off during a trim because the positioning is not perfect.
• The device will start to make a lot of noise and vibrate as it gets old.
Conclusion
You can have negative thoughts about it or become interested in buying it with your eyes closed. Do not go into each of those aspects until you have examined yourself. Some users have put in positive comments about it while others think differently. The individuals who does not like the product said it does not have a user-friendly interface and the attachments are tough to use. Those who liked it said it is because it requires low maintenance and comes with all the attachments men needs.