Wahl has been in the manufacturing and inventing industry for grooming equipment for more than 89 years. Since the beginning, it has been producing high-quality consumer products for men. Wahl company engineers and manufactures in their factory and the products have a better quality than other trimmers in the market. If you ever hear that the same trimmer lasted more than ten years, if you look close and check the name tag, it would be Wahl.
Related articles about Wahl Rechargeable Beard Trimmer Model 9916-817
Common Problems with Wahl Trimmer
WAHL Model 79300 Color Pro 20 Pieces (400W) Beard trimmer Review
Wahl Life Proof Rechargeable wet / dry beard trimmer/foil shaver Review
Here is a review of Wahl 9916-817
Design
Even though it is affordable and comes with a small price tag, the design is ergonomic and the shape makes it easy to handle. It comes with a comfortable and firm grip that have spaces for your fingers. It can fit onto the hand easily. The handle is smooth an ergonomic. It enables you to hold on to the trimmer safely. The handle makes sure that you are not dropping the beard trimmer.  It does not come in more than one color. All the accessories are black in color. The weight of this trimmer is similar to a cup. It does not make much noise but it is not completely silent. It will remind you of the feeling of trimming at the salon or barbershop.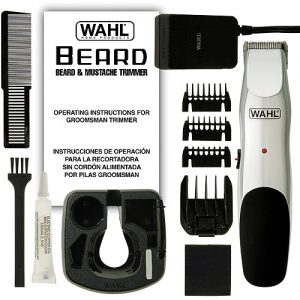 Maintenance
You cannot wash this as it is not washable.  It comes with oil for lubrication of the blades. The blades of this trimmer are sharp and you can keep it in first-class condition with proper oiling. Use the cleaning brush that comes along in the box to keep in shining. It is not waterproof but that does not mean that maintain it will be hard. You can clean off the excess hair within a minute.
Blades
The best part is that you can get any look you want because it comes with 7 trimming lengths and guide combs. The blades are sharp and the oil will help you maintain its proper health. The blades let you have a precise shave. They are going to take care of thick beards and stubborn hairs. It is better than using scissors. You can get all-over even results. It is an easy to use and you will not hurt your skin. The instructions can help you with the usage of different accessories and attachments if you are unclear about their use. The cutting motor is powerful but not too much.
Conclusion
If you want a simple, inexpensive and reliable shave, tis should be perfect. Take care of the device properly because it will get broken with negligence. If you think that the attachments are becoming difficult to handle, you can store them separately and keep the ones close with you that is for regular use. It is a dependable and you can rely on it for your trimming requirements. Do not forget to oil the blades from time to time.