Wahl Trim N Vac Beard Trimmer with Dura chrome Finish Review
2 min read
As you can tell from its name, that is a beard trimmer that has integrated vacuum system. There are many other beard trimmers in the market that has this feature but Wahl stands out from the rest. The company produces beard trimmer out of 100% super high-quality materials and the structure is solid which makes their beard trimmers better than the rest in the market. Most men love Wahl because of their variety, types and prices. The company has a device for each kind of men.
Related articles about Wahl Trim N Vac Beard Trimmer with Dura chrome Finish Review
Wahl Life Proof Rechargeable wet / dry beard trimmer/foil shaver Review
Wahl 9854 versus Remington MB 4040
WAHL 9916-1117 GROOMSMAN TRIMMER review
Design
It is small in size so it is easy to grasp and use. It can fit in all type of hands and it is grey in color. Users love the touch and feel of this device and it is not slippery. It has an indicator on top just below the button. You can use it as a corded or a cordless trimmer. The package includes a carrying bag so you can keep the device inside it safely. You can also take it during travel by putting it in the bag. The attachments that comes with it are also solid, robust and durable. The head can be bent at 90 degrees to expose the cutting blade that is wide enough for all kinds of beards. The detailer can be used for going around critical areas such as the lip line and for extra detailing.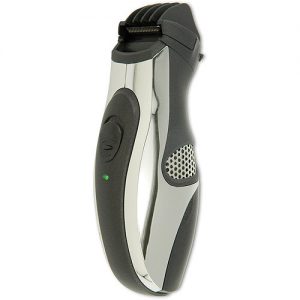 Usage
You can use this to get any kind of style you want. It is suitable for shaping the beard, mustache, sideburns and jawline. You can use it daily for a clean trim. The length lets you tackle long hairs as well as small ones. In that way, you can carry out any beard style you prefer. The battery is powerful and will not die out in the middle of a trimming session. Even if that happens, you can plug it in and use it as a corded trimmer. The devices come with an ergonomic shape for friendly usage. The blades do not lose their sharpness.
Battery life
The battery is nickel-cadmium which can go on for more than five years. You have to charge it for 8 hours to make it run for 40 minutes. The operation time can be less but that should not be a problem because you can plug it in and continue to use.
Conclusion
If your old trimmer stopped working or you are in search of a new one, you should get this. The users are very happy with this. It saves their time because it can collect more than 90% of hair unlike other beard trimmers with vacuum. There will be no mess. The design of the product is exceptional and superb. The outstanding mechanism makes it an exemplary and desirable model.