Braun BT 5070 Beard Trimmer Review 
3 min read
If you are not happy with your current beard trimmer and want to switch to another one, you can try the Braun BT 5070. Not only does it look stylish compared to other trimmers in the market, it provides a lot of power while being cordless. If you are confused about buying it, find out online if there is a deal where they let you try it for free. You probably heard about the excellent services of Braun Cruzer 6 which does a terrific job all over for trimming and cutting. The difference between this and that is the Cruzer comes with a carrying case in the box.
Related articles about Braun BT 5070 Beard Trimmer Review 
Braun Series 9 VS. Philips Norelco 9000 Series
Andis BGR+ Detachable Blade Clipper Review
TRYM II – THE RECHARGEABLE MODERN HAIR CLIPPER KIT review
The blades
You can use it for months and years and still find them working like brand new. The manufacturers have put in super sharp blades so that you can get the precision cut every time. The engineering of the blades is to make them last for years. There will be no hair tugging or pulling and you can style your facial hair smoothly. You can trim your beard evenly and will take care of sideburn and the edges.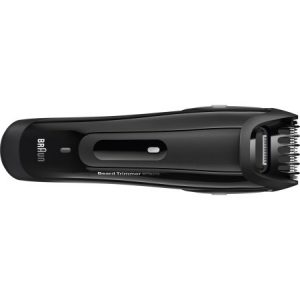 Battery life
It works on strong Ni-MH batteries that becomes fully charge with just charging of 60 minutes. You can use it with full power as a cordless beard trimmer for 50 minutes. To make sure the customers get the flexibility, the device can be used both as a corded trimmer and a cordless one. It makes sure that the user never has to run out of power.
Maintenance
It is fully washable so you have to dry it fully before you are plugging it back. You can use it in the shower though. It will not work properly. It is for dry shaving. The best part is that it is easy to use. The heads come off easily and you can use the lock for adjustment. You do not have to face the trouble of the length altering in the middle of a trim. After each cleaning, you will see that it looks and feels like a brand-new beard trimmer.
The features
1. It comes with two detachable combs for trimming accompanied by 25 length setting so that you can get any style you want
2. The blades are made to last lifetime and helps in getting precision in trimming always
3. The batteries are powerful which charges up quickly within 60 minutes to work with full power for 50 minutes
4. The slide out detail trimmer permits the user to have efficient and easy styling for beard lines
5. Can be cleaned under running tap water
The pros
• Cleaning it is an unchallenging job so you can take care of it to make it last for years and you do not have to buy another trimmer
• You can adjust the lengths and get an even trim without any hair pulling
• Users love this product because of its blades, quality and power
The cons
• If you have thick beard, you will have to go over and over again the same place and the trimming can take a long time.