If you are looking for a beard trimmer that can cut your hair as well groom your facial hair, you should pick this one. The German-manufactured blades will glide smoothly over your face. Some people mistake it thinking it is a hair clipper only. The word "Genio" means chin so you can tell that it is for your beard as well. Let us get to the product.
Related articles about Moser Genio Beard Trimmer Review
Moser 1400-0050 Beard Trimmer Review
Moser Vario Cut Beard Trimmer Review
Andis BGR+ Detachable Blade Clipper Review
Product Overview
It comes with stainless steel blades so if you have delicate or sensitive skin, this can help. The beard trimmer is equipped with high-precision grinding and cutting technology because of its German built. There is a LED light indicator an it is light weighting only 140g. There are two attachment combs that you will find in the box. The small one is 3mm and 6mm and the large one is 9 mm and 12 mm. You will get a cleaning brush and oil that is going to help with the maintenance of this product. The design is simple which makes it easy to grasp and go over to all the parts of the face. It looks like a regular beard trimmer and hair clipper without any metallic appearance or extra style on the outlook. The battery is Ni-MH which requires a charging time of 10 hours to operate for more than 100 minutes.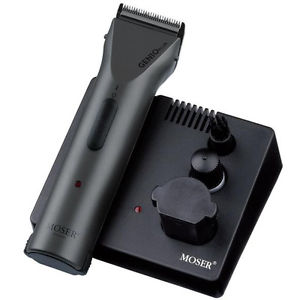 Product advantage and disadvantage
People all over the world who used this fell in love with its performance and style. It can trim hair with finesse. The product does not make any noise. There are many trimmers out there in the market that makes a lot of noise during usage. It is completely different. If you can maintain it properly, you will be able to make it last for a long time. If you do not know where to oil it, look into the manual. There are clear pictures which illustrates where you should pour the drops of oil. You can use one cutting comb for two dissimilar lengths. All you have to do is get rid of the attachment comb and replace by rotating. The benefit of this comb is, despite the angle, you will be able to trim at an even length. Removing or attaching a comb is easy. All you have to is fit it on the cutting edge of trimmer's blade set. Press it till you hear the click.
If you plugged it in and forgot to remove the device from charging, do not worry because there is intelligent charging management. That does not mean you can always forget about it intentionally! There is no disadvantage except for the blade might not be that sharp unlike other devices where the blades are ultra-sharp.