ANDIS T-OUTLINER TRIMMER
3 min read
Andis T-Outliners are barber's favorite. If you are looking for a beard trimmer than the professionals use, you should choose one from the products manufactured by this company. Their products are solid, powerful and made for professional use.  Its performance will surprise you because it does not look like something fancy. Even though this is perfect for professionals, you can use it at home causally. If you want a better version of this or an improved one, you can go for the Andis GTX.
Related articles about ANDIS T-OUTLINER TRIMMER
T-Outliner® Blackout™ Andis T-Blade Trimmer Review
Andis 4775 GTX T-Outliner Trimmer review
Andis BGR+ Detachable Blade Clipper Review
Appearance 
It is grey in color and comes with a beautiful switch that catches everyone's attention. Other trimmer usually go with switches that are round and circular or is unnoticeable. You can hold it easily because it is ergonomic and use it smoothly and efficiently. You will get best results because of the Andis T Blades. You can only use it as a corded device and not a cordless one which is an advantage. You do not have to worry about the dying battery or the charging time. You do not have to worry about the power, batteries or anything. All you do it plug it in and use it. That is why it is more tough because it will not die in the middle of a trim.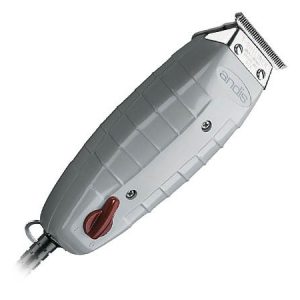 Motor and blades
Underneath the plastic covering, you will find a motor that is electromagnetic which cuts at 7200 strokes each minute. That ensures a quick trimming with a lot of power. If you are someone who has to trim a lot or has dense beards, this Andis device is going to be serviceable. You should have this close to you because it can be helpful. To get better results, there is a carbon coating in the blades which makes them extra healthy and gives them the capability to take care of thickest hairs. You should not put too much pressure as it can penetrate through the skin. It can hurt because of its sharpness and solidity.
Conclusion
If you are a beginner, you have to be careful with this. It is not suitable for those who never used a beard trimmer before as they hurt themselves. You can use it for any style you want: neckline cleaning, mustache trimming, beard trims, cleaning the edge, shaping the edges and outlines. You can give yourself elegant looks as well with the option of arty fades. It lets the user have precise cuts so there is positive results every time.
You should use some pre-shave oil in the mixture before you use the T blade for beard trimming. It will make your experience satisfying. If you are using it for a long time, it can heat up. It is a disadvantage of this product but you should know that all beard trimmers come with certain pros and cons. The last one which is not technically a disadvantage, but if you worry about appearance than this should be a problem for you. As mentioned before, it is not stylish unlike many trimmers in the market. It looks quite dull and not an eye-catching beard trimmer.