Braun M 60B Pocket Shaver Review
2 min read
Even though Braun has one of the most expensive beard trimmers such as the Series 9 or 7 but this one makes a difference. Even though this pocket shaver has the high-quality and well-built mechanism of Braun, it costs very less. The price tag is so small that you will not mind buying it every month. It is going to be suitable if you take it during travel. It is light and will not take up much space. You can add batteries and use them when you are not in the comfort of your home.
Related articles about Braun M 60B Pocket Shaver Review
Braun MGK 3060 Multi Grooming Kit 8 in 1 Beard and Hair Trimmer for Men Review
Braun Series 9 VS. Philips Norelco 9000 Series
Braun Series 7- 790cc Pulsonic Shaver System Review
It is a washable pocket beard trimmer that is portable and perfect if you have a low budget. If you want a backup beard trimmer for travel or emergency purposes this should be the answer. Its size makes it fit into pockets easily. It comes with a transparent case of blue color which permits the user to see the inside of the shaver. The user loves this product because it is robust and provides perfect results.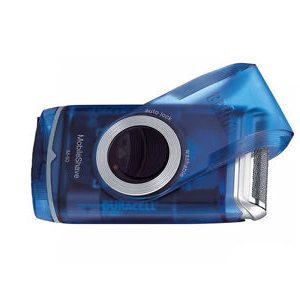 It comes with a multi-purpose cap that saves the foil head. It will go down and become a portion of the trimmer body. It will let you grasp onto the trimmer without any difficulty but will let you store it safely during travel. It has a floating foil that is wide which enables it to cover a big part of the face in one slide.
The M 60B comes with batteries which means you do not have to worry about charging it. You can also use it as recharging shaver where you charge it before use. If you can find proper batteries, the service of the beard trimmer will be better than usual. You can use this at the gym, breaks during class, while watching the TV or anytime. It is perfect if you are travelling a long distance.
The surprising part is that you can use it as both dry and wet. It is an important feature that is missing in many beard trimmers in the market.  If you have sensitive skin, this is going to help as it allows the user to put on shaving lotions, creams or gels prior to trimming. After use, you can clean it under running water. If you used Pocket Go from Braun and liked that, you like love this because it is better than one and comes with a lot of improvements and enhancements. If you are someone who loves this brand, you should have this as your second trimmer. While using other beard trimmers, you have to be very carefully. With this one, if you mistakenly apply pressure you will not get cut.