You can get this beard trimmer at a low price from any country you buy it. If you are in the United States, it would be around $15, if you are in African Union it would be $21 and so on. If you do not like it, you can return it within 60 days of purchase. If you are tired of looking for the perfect trimmer that can withstand both wet and dry shaving, this should be your choice.
Related articles about Kemei KM 610 Pro Electric Rechargeable Beard Trimmer Review
Kemei KM-3007 3 in 1 Men Electric Rechargeable Beard Trimmer Review
Kemei KM 518A Electric Hair Clipper Beard Trimmer Review
Kemei KM 1008 High Precision Hair and Beard Trimmer Review
What is in the box
• The beard trimmer KM 610
• Cleaning brush
• Charging socket
• Instruction manual
• Appliance oil
• Guard
Design
The beard trimmer comes with an ergonomic design with a strong motor. The blades are made from stainless steel that makes cutting simple and less challenging. You can take off the blade easily and clean using the brush. The sharp blades make it convenient to use. It is flexible because it is completely wireless. It is red and silver in color. It has a metallic top and the power button is somewhat different from other beard trimmers. If you own this beard trimmer, you will not have to worry about your facial hair. The outlook of the tool makes it look professional. It is solid and heavily constructed yet it feels light.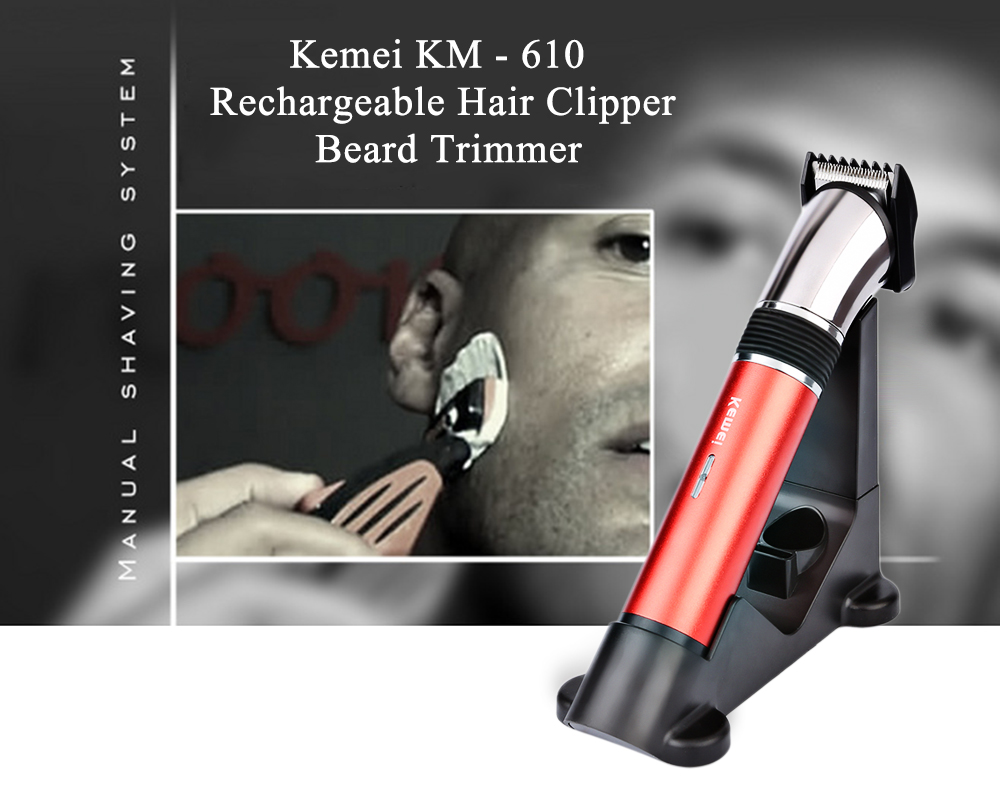 Battery life and Usage
Charging it for 10 hours will let you use it for 45 minutes. There is an indicator to let you know about the battery status. The device is completely silent but powerful. You can use it to cut hair on the head. This model is also a hair clipper. You can wash it because it is waterproof. You can use it in the shower as well as it supports wet technology. If you start using it, it will become one of your favorite devices. It is easy to use and hassle-free. There are not too many attachments so there is nothing to worry about and it can take care of your goatee, sideburns, head and beard.
The cutting lengths are 1.0 mm, 3.0 mm, 6.0 mm and 9.0 mm. It always results in a smooth appearance because it can match with the contours of the face.
When you read reviews about beard trimmers, one common thing that you will stumble upon is that the device is not waterproof neither suitable for both wet and dry shaving. When it is about this device, it does not have that disadvantage. Kemei beard trimmers have a reputation of being functional, effective and being serious in their work.