Remington PG 6171 The Crafter Beard Trimmer Beard Boss Style Review
3 min read
If you are looking for a beard trimmer that will let you become a pro at styling your face by enhancing your beard style, you should choose this device from Remington. As you can tell from the name "Beard Boss" it is indicating that you can become the leader of your beard. The device and its attachment's permits you to modify and alter your look. From detailing and trimming and taking care of touch-ups, the beard trimmer will support your look all the time making you look your best.
Related articles about Remington PG 6171 The Crafter Beard Trimmer Beard Boss Style Review
Panasonic ER GB80 S versus Remington PG 6170 The Crafter
Remington PG 6250 Wet Tech Head, Beard and Body Grooming Kit Review
Remington Trim Plus Model: PG6145 Lithium Powered Head to Toe Face and Body Grooming Kit Review
Battery life and charging
Users love this beard trimmer because of its long running time. It can work for 3 hours without the need of being charged which makes it 3 times more powerful than most similar devices in the market. The best part is that it comes with the advantage of quick charging during emergency where you can plug it in for 5 minutes for a nice trim. You do not have to worry for months before you plug it again for charging. It delivers excellent performance while being cordless unlike other beard trimmers it does not lack power. You can trim your mustache, goatee and beard etc.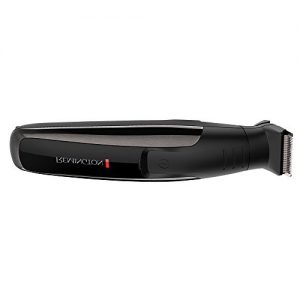 Accessories
The beard trimmer comes with all the essential items you will require for a proper look. It comes with a eleven piece kit and blades that are made from stainless steel. You do not have to worry about the blades' health as they are self-sharpening. The package comes with five combs, storage or travel bag, adjustable comb, ear, eyebrow, and nose trimmer, detail foil shaver, detail trimmer and full sized trimmer.
Features
• The device comes with a 11-piece kit where you will find self-sharpening blades so you can accomplish all your facial trimming requirements
• Running power for 3 hours being cordless because it comes with lithium which guarantees excellent performance of trimming
• 5 minutes of quick charging can save your time and be able to store energy for one trimming session
• 100% Waterproof therefore you can use it in the shower
• Maintenance is simple because the blades are self-sharpening and the device is waterproof
• Turbo mode is an option people search for when they purchase beard trimmer, it lets you take care of the thickest beard and stubborn facial hair
• The Adjustable comb is equipped with 10 lock in trimming length which delivers the definitive in flexibility
• Prolonged neck which lets the user effortlessly navigate all the areas of your neck and face particularly in difficult areas
Conclusion
You can purchase this because it comes with a lot of features at a less price. You can face problems such as if you want to get a clean cut. The mini foil may not allow that but it lets you take care of small areas. The extended neck is not changeable. If you face any problems, you can contact the manufactures and get your money back.