If you are in need of a beard trimmer that can take care of head and full body grooming, the Groomsman Pro can be the right choice. The tools that comes along with the beard trimmer will aid in styling and cutting. You can shave, trim, outline, detail or even just give yourself a touch up with this.
Related articles about Wahl Groomsman Pro 9860-700 all-in-one Grooming Kit
Wahl Rechargeable Beard Trimmer Model 9916-817
Wahl Beard Trimmer with Bonus Personal Trimmer Model 5537-1801
Common Problems with Wahl Trimmer
Do not get misled by the item's photo though because it does not come with a charging base. Even though it can look like one, it is simply for storing all the parts. If you want to charge it, take it off the base and put it for charging. Another aspect that can put you in a maze is that, do not think that it comes with lithium ion battery. It works under a nickel-metal hydride battery. There is nothing to worry because this can make the device work for a long time. This model is also not for every socket. It is a 110 Volt unit.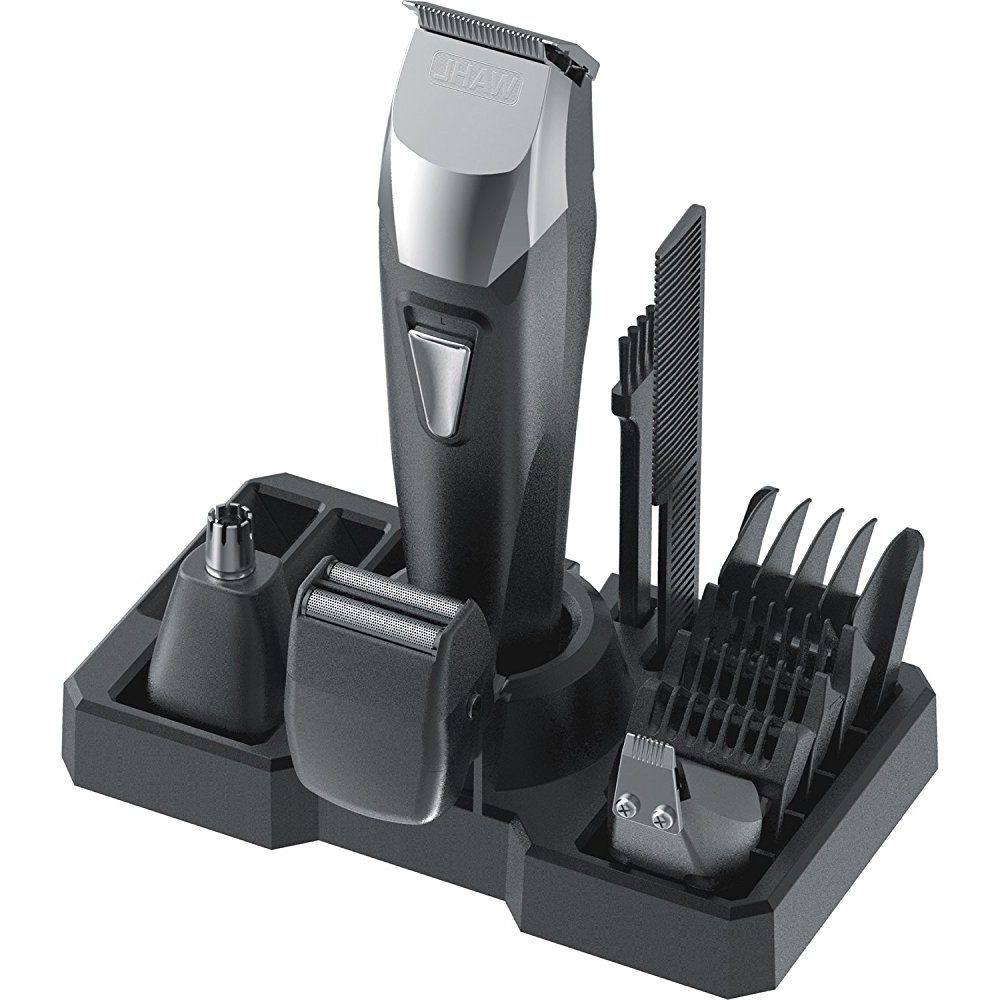 Product benefits
• You can get a close shave with this
• It is solid, comes with a nice design for firm grasp and you can easily maneuver over your face
• It comes with a built-in battery that can hold charge for a long time
• It comes with a lot of attachments that you can use according to your needs to groom yourself. They are all of proper use and snap-in. You can fell that it is similar to a professional tool.
• It is easy to use and regular usage can make you look well-groomed. It is light-weight so you do not have to worry about handling it
• You might easily drop all the accessories with a little distraction. They can all fall over because they are not that strong or does not stand firmly on the surface where you keep it
• You can hurt yourself and that cause bleeding. Ensure that you are using it safely by reading the manual that comes with it. Do not put too much pressure or try your best to not hurt yourself
• The stand is neither for charging nor can it hold everything properly. It can break easily if you overlook it
• The rubber grip can be a hair magnet so this a problem if you do not like mess
• You can feel that it is losing power after some minutes of usage
If you like to stay organized, this product can be that much helpful. If you want a powerful and robust device, this should be a fair choice. Despite all the disadvantages, it is still a better beard trimmer compared to many other in the market manufactured by other brands. If you can take proper care, it will last more than five years or more. It can work for weeks without charging and it can hold charge for a long time. You can give this product as a gift to anyone you care about such as your husband, friend, brother, etc. If the attachments are becoming a problem, you can store them in a bag separately and keep the trimmer and the required accessory such as the cleaning brush and the 6-position guide with you.