Conair GMT8RCS Corded Beard and Mustache Trimmer (2018)
3 min read
If you are looking for a beard trimmer that is easy to use, comes with a friendly interface and can complete the job properly, this is the Conair GMT8RCS is the perfect gadget for you. If you are thinking of a beard trimmer that will serve more than the battery one from Conair, this could be the answer. It is the perfect corded trimmer and comes with a reasonable price tag. The main purpose is to trim beard, mustache and goatee.
Related articles about Conair GMT8RCS Corded Beard and Mustache Trimmer
Conair Model GMT 10CS Rechargeable Beard and Mustache Trimmer
Conair Model: GMT100NCS Battery-Operated Beard and Mustache Trimmer Review
Conair The Chopper 2 in 1 Customer Styler – 24 pieces Clipper/Trimmer
Design
It fits onto the hand easily as the handle is ergonomic and even. It comes with a combination of two colors: red and black. The handle ensure that you are holding onto the trimmer safely. You cannot use shaving lotions, creams, soap, gels or water since it is completely electric. The grips make sure that you are not dropping the device when you a e in a rush. There is a black button in the middle which also has lets you turn it on or off. The accessories it comes with are black in color. It is small and you can pack it without any challenge, therefore it is for travelers.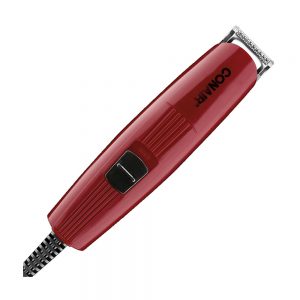 Blades
The blades are made from stainless steel. One of the chief reasons why individuals choose to use stainless steel is because of its benefits and physical properties, the most general one is that it is corrosion resistance and will actually uphold high mechanical properties at certain temperatures. A major aim to put stainless steel in the tool is because of its strength. The blades look nice if you can keep it clean. The trimmer lets you remove the blade for cleaning. Do not worry about the size of your beard and mustache, it can take care of all lengths and shapes, making the person look nice.
Combs and usage
The combs are adjustable to 5 positions so that you can make any style from a stubble look to beards. The best part is that you do not have to worry about charging it or replacing battery. All you need to do is, plug it in and it is going to work with full power. You can use it for a quick trim before going out in the morning or in the evening because you do not have to worry about the charging and it works with a lot of power. The rechargeable one or the battery one can get heated up with a little usage. With the corded one, there is no heating up. You can also use this for a haircut with the adjustable combs. The best part is that it comes with the essential accessories only unlike other 19 pc, 12 pc or 15 pc trimmers. There is no mess and you can use them during necessities.