There is no doubt about the quality of Wahl products. They have a good name in the beard trimmer industry because of their finesse in each of the devices.  The best part is that they create a lot of variety in shape and size. They want to make beard trimmers for every kind of men. If you have a firm hold, you can get this one the 9918-6171 and if you are a professional and do not want a trimmer for personal use, you can pick the Wahl Peanut. The best part is that the attachments are widely available separately and you can purchase them at a low cost.
Related articles about WAHL Beard Trimmer Model-9918-6171 Review, (Cord or Cordless)
Wahl Beard Trimmer with Bonus Personal Trimmer Model 5537-1801
Wahl Rechargeable Beard Trimmer Model 9916-817
WAHL Mustache and Beard Battery Trimmer Review, 12 pieces 
Here is a review of the 9918-9171.
After you receive the product, you will find that it comes with a lot of accessories. You will get a cleaning brush for its maintenance.  You will get a storage pouch which can come in handy during travel and every day when you are keeping it safely. It comes with a charger and storage base. You will also get oil for blades so that you can keep them sharp and brand new. For the beard, you will get the device itself (Beard trimmer), Six position guide, Guard, Stubble and length guide (1/8″ and 3/16") and the beard comb. If you have any problem, read the manual and use the styling guide.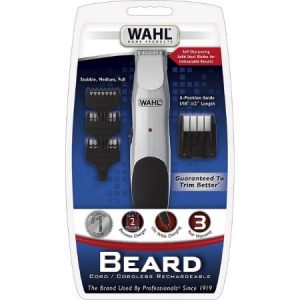 Benefits of using this product
• You can use it as a both corded or a cordless one. Many people are confused if they want one that functions cordless or a corded one. They can get rid of confusions because it can work as both and provide full power in both stages.
• The blades are self-sharpening and the teeth are designed to stay sharp for a long time. They come from high-carbon hardened steel rather than simple stainless steel to make it strong.
• You can adjust the beard guide to make the head result in a smooth and clear cut of your choice. It can cut through the thickest of beards.
• The price is reasonable and you get value for money. If you use it, you will be able to understand the difference. You will feel like that it can cut through grasses in your backyard!
• If you are beginner, you should spend money on this. There are two reasons why that is going to be good idea. First of all, if you are making a huge investment that is not going to be beneficial if you are new person in the trimmer world. Secondly, the instructions are very lucid and easy to understand unlike many other manuals.
Conclusion
Users are happy with this product. The shocking part is that the price is so low even though the service is excellent. It comes with an ergonomic design and friendly interface. You can trust Wahl when it is about beard trimmers.