Fujicom produces a lot of important gadgets people need in their daily lives such as the Magnetic Car Mount, Stereo earphones with microphone, iPhone car adapters etc. You can tell by now that they are popular for their gadgets and tools. The beard trimmer from them is no different. It receives a lot of praise from its user. It might not be as popular in the USA or UK as Wahl, Braun or Philips but the users who bought it are grateful that they made this decision of purchase.
Related articles about Fujicom Professional Beard Trimmer and Hair Clippers Grooming and Styling kit review
JTrim JPT-BT200 beard trimmer review
TRYM II – THE RECHARGEABLE MODERN HAIR CLIPPER KIT review
Geepas GTR 8290 Beard Trimmer Review
To begin with, you can already tell from the name that it comes with everything you need such as oil, cleaning and the four attachment combs to get that look you have craving. The price is so less that you will not believe that you are getting all these at such low cost. It is a professional haircut trimmer so you can use it if you are a barber. The barbers and hair stylists who uses this product on their clients and customers are very much satisfied with its performance.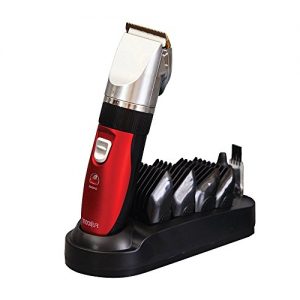 You can also get it for personal use because it is simple to use without any complications.  It comes with four attachment combs and 5 gear settings that starts from 0.8 mm till 2.4 mm.  You can use it while it is being charged and the machine is robust and powerful. The battery is strong and it will charge fully in just five hours.
The buttons will clearly tell you about the settings and it is a high-quality product. Maintenance of this product is simple and easy. The combs offer length of 3mm (1/8"), 6mm (1/4"), 9mm (3/8") and 12mm (1/2"). It comes with a cleaning brush, stand to hold all the combs including the oil and rechargeable battery.  The blade is made from ceramic which is beneficial for you because it will stay sharp longer than regular blades. It will also stay cool. If you are worried that your trimmer will get hot after usage, then think again. The ceramic blades remain cool therefore it is suitable for professional use. You can use it on many clients on the same day and it will not get hot unlike other trimmers. The design in ergonomic.
The company manufacturers of other beard trimmers will say that the tool gets hot because of its power. That is not going to be the case with this one. It is very powerful, solid and fast but that does not make it an excuse to heat up. You should oil the blades from time to time to maintain it in its first-class condition.