As you can tell from the name, it is a haircut kit as well as a beard trimmer. Therefore, having this lot can save a lot of money since you do not have to go out for a haircut. You can use this to cut children's hair as well. It is completely safe to use on anyone. There are many users who were using beard trimmers or clippers from renowned and famous companies but they got disappointed. It can happen that the device was making too much or it lost power after few grooming sessions. This device from J Trim changed their disappointment into happiness because of its performance. If you are presently facing trouble with your current beard trimmer, it is recommended that you choose this device. The price is affordable so you can always buy and try it.
Related articles about J Trim JPT-PBC 100 PRO-BARBER Haircut Kit for Men (Corded)
JPT-HC300 J Trim PRO-Clipper Mustache and Beard Hair Trimmer Review
JPT – BT 100 FROM J TRIM beard trimmer review
JTrim JPT-BT200 beard trimmer review
Product overview
The device is a corded trimmer and it is green and black in color. It has a copper motor that is strong and powerful. It does not make any noise and the device will never heat up. The titanium blades can take care of sensitive skin. There are four comb attachments. One guard is 1/4 inch, one is1/8 inch, one is 1/2 inch, and one is 3/8 inch for varying the lengths. The box comes with a pleasant pair of scissors, a cleaning brush, instructions and a comb.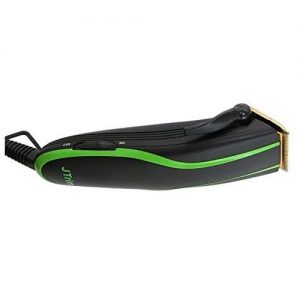 Product advantages
There are many benefits of having this beard trimmer. First of all, if you do not feel like going out of the house in the cold winter days or during the weekend, you can give yourself a professional hair cut with this. It works smoothly, without heating up or making any noise. Silent beard trimmers are hard to find nowadays. The attachments fit in perfectly and you can take them off and put them back on whenever you want.
If you are wondering why does a product with so many first-class features cost less, then the answer is here. Other beard trimmers come with extra attachments and accessories that you will never need. You may have heard about the "23-piece complete trimming kit" or "20-piece grooming kit" etc. If you notice their price and costings, you will notice that they are expensive and the users are not happy. Having too much attachments means you have more responsibility, you have to take care of them or else they will get lost. You need a pouch or a storage bag to secure them or else you will lose them for good. If you are someone who does not want any excess attachments, pick this one for your trimming needs.
You can also gift this to your grandfather, father, brother, grandson etc. Children can use it as it does not make any noise, it will not hurt their eardrums. The cord keeps on providing ongoing power for precise finish. You can get the look you want at the comfort of your home.