JPT – BT 100 FROM J TRIM beard trimmer review
3 min read
No matter what style of beard a man has, they can manage to look good if they maintain it. It can be a goatee or a stubble look and the beard trimmer should be something men must buy. It is something they cannot leave out because it is a compulsory investment. The device is significant to style men's facial hair by grooming the mustache and beard. Women loves it when a man can maintain their beard. The problem men faces are that there are so many choices out there that it becomes confusing to pick one. Here is a review of J Trim BT 100 beard trimmer.
Related articles about JPT – BT 100 FROM J TRIM beard trimmer review
JPT-HC300 J Trim PRO-Clipper Mustache and Beard Hair Trimmer Review
J Trim JPT-PBC 100 PRO-BARBER Haircut Kit for Men (Corded)
JTrim JPT-BTP300 Pro-Trimmer Review
Design
The device comes with an elegant look that will look great on the bathroom counter. It has an ergonomic and sleek design that can blend with your home. It is not weird looking or dull. It has a white base for recharging. It looks simple yet beautiful. It is wrapped in copper.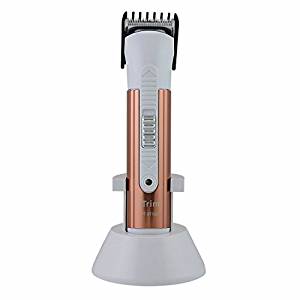 Blades
If you are looking for beard trimmer for sensitive skin, this device can be the solution because it has hypoallergenic blades. Some people do not use the trimmer because they get pain from all the pulling and tugging prior to cutting it. It has sharp blades that will not cut or pull while you trim. It ensures comfort and a nice experience of trimming.
Charging and battery
It is wireless so that means you can take it anywhere you want. You have to charge it for nine hours. After that you can use it for weeks without having to charge the device again. There is no chance of dropping it during the charge because it has its own base. Many users have dropped their beard trimmer during charging because the charge is heavy but this accident will occur with the J trim.
Various length settings
It comes with 6 hair length settings for a close cut or any style trimming. You can pick out from 5/8 inch for long beards that you want to maintain to 1/8 of an inch for skin contact. You can use it for other parts as well such as sideburns, moustache and eyebrows. You will always be able to look tidy and clean with this device.
Maintenance
There is nothing much to do except for oiling the blades from time to time. You will get a bottle with the package which will allow you to maintain the blades in pristine form. You will also get a cleaning brush to extract the hairs that sticks to the blades.
More features
If you are someone who does not like a heavy trimmer, the J Trim will be able to satisfy you because it is lightweight. Some people who put a lot of pressure on their device should not opt for this as they will damage it. It makes it easy to go over the face without any disturbance. You can manage to get it to the correct angle. Men over 60 loves this device because it is light and easy to carry. Even if their hands are shaking, they can manage to get a clean look without any cuts.