JTrim JPT-BTP300 Pro-Trimmer Review
3 min read
If you are someone who was looking for a beard trimmer with an attractive and eye-appealing design but got disappointed with their usage and features, this J Trim beard trimmer will make all the difference. Not only does it come with a sleek, outer beautiful body and structure, the users love it for its performance. The price is slightly more than other beard trimmers from this company.
Related articles about JTrim JPT-BTP300 Pro-Trimmer Review
JTrim JPT-BT200 beard trimmer review
Fujicom Professional Beard Trimmer and Hair Clippers Grooming and Styling kit review
HITACHI Beard Trimmer RM 1700UD REVIEW
Product overview
This is an electric cordless rechargeable beard and mustache trimmer for men. It is a high-quality product which is super powerful and comes with no vibration. It provides a noiseless trimming session. It provides the exact same service as professional ones because it comes with a Titanium Moving Blade And Titanium Fixed Blade which will long-lasting. The blades are fast-action and precise cut blades. There is a single comb attachment w
hich comes with 9 Positions starting from 1 mm to 8 mm. It works on 110 V USA. The charging time is eight hours.  The usage duration is 45 minutes. If there is something you do not understand, refer to the instruction manual that comes along with the tool.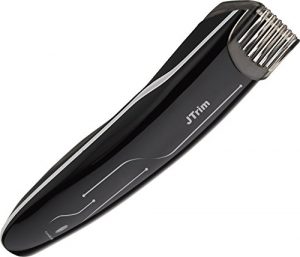 Product advantages
Unlike other beard trimmers which comes with a set of various accessories and attachments, it combs with only one. In that way, you do not have to worry about losing them. Maintenance is low, all you have to do is use the cleaning brush to keep it in clean. Ensure that you do not make it come in contact with water. Its excellence can surprise many people. It is adjustable so the user can use it to give themselves hair cut like professionals as well. There will be no issues during the haircut. It is perfect for beards because you can achieve various styles and shades. If you want to try difficult styles you can achieve that as well.  You can have a thick goatee with a light beard. The battery is robust and it will not die as long as there is power in it.  It weighs less than many other similar beard trimmers from this category. Usage is easy and simple just use the dial start the trimming session. Below it you will find the power button.
Use the cleaning brush and oil to keep your beard trimmer is first-class condition. If you are someone who got frustrated with the trouble of not only upholding the height of the beard but most of the time, the battery stopped working down during a session. If you are looking on the internet, this is the one that will appear in front of you as the beard trimmer with most positive reviews. You can experiment with different lengths and try various looks for yourself. It will not cause any sort of pain while cutting. The blades are very sharp so be careful during usage.
Product warranty
The beard trimmer has a one-year warranty and you can use it for a free trial of 30 days.