Panasonic ES 3831 K Single Blade Travel Beard Trimmer
3 min read
If you are looking for something of high-quality but with an affordable price tag, this is the one for you. There are other renowned and famous companies manufacturing beard trimmers at this price in fact slightly more than the cost of this one but surprisingly they do not work properly. The Panasonic one is the best out of all the rest when you are looking for a high-quality beard trimmer at a very small price. It is designed to be a travel shaver but you can also use it daily and will work like magic. If you want value for money, then this is the one for you.
Related articles about Panasonic ES 3831 K Single Blade Travel Beard Trimmer
Panasonic ER GB80 S versus Remington PG 6170 The Crafter
Panasonic ER224S All-In-One Cordless Hair and Beard Trimmer Review
Panasonic ER-GB40-S Moustache and Beard Trimmer Review
The shaver comes with a head that floats which make shaving comfortable and easy. It will be cordless but runs on batteries that can make it last for months. If you are going out of town, you should purchase extra batteries so that they can work smoothly. Two batteries are sufficient for a trimming session of 90 minutes. Some people have used it more than 90 minutes with two batteries!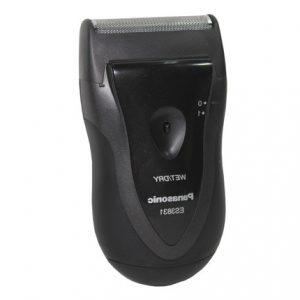 There are no multiple blades but the single one takes care of it all. You can use it for more than a year and the blade will still feel like the first day you bought it. The interior blade is precision-angled to cut off hair till the sin level. The angel is 78 degrees. The motor operates at 8500 RPM which is not that fast but suitable when you are travelling.
The foil head enables its floating properties. That means it moves according to your face and goes by the angles in your face without pulling in any hair. The best part is that you can use it for both dry and wet. This feature is not even present in many expensive trimmers, let alone cheap ones.
The device is easy to grip because it has the best design which makes it ergonomic. It will not fall or slip from your hands even if you are using it in the shower. It weighs less than half a pound so it is not adding any extra weight to your luggage. It is light-weighed and you can take it anywhere without trouble.
The beard trimmer is perfect for you if you thick beard but sensitive skin as well. It is going to protect your skin as you trim because it is free of nickel. The label says that it is "hypoallergenic" and if you have skin problems or allergies, this should be helpful as it has a stainless-steel foil.
It is an unchallenging task to clean this because you can rinse it under water. There is a cleaning brush so that you can keep it clean. Make sure to get additional water off and rub it off with a towel and let it air dry. It is suitable for trimming hairs in ears as well.
In the package, you will find the trimmer itself, cleaning brush and the plastic foil guard. If you are travelling, you have to store in a bag. This shaver will work best for styling moustache and beard. It is perfect for beginners who never used trimmers or shavers before.