Philips Norelco Series 7200 Beard Trimmer Review
3 min read
There are many reasons why people go for beard trimmers instead of their typical razors. It can be because they have sensitive skin, likes no mess on their sink and wants to save time. Another important reason can be that they want to impress others and put a positive impression on people. They want their wife to call them "perfect" and not find any flaw with the shave. During shaving, a lot of errors can happen and they can even cut themselves. The Philips 7200 is designed for those who wants to give themselves the perfect look by trimming their sideburns, mustache and beard. This is for the stylish ones who wants to look handsome, charming and their best.
Related articles about Philips Norelco Series 7200 Beard Trimmer Review
Philips Norelco Beard Trimmer 7300 Review
Philips Norelco BT5275/ 41 5100 Beard Trimmer Review
Philips Norelco BT1200/42 Beard Trimmer Series 1200 Review
Appearance
The color of the trimmer is grey and black with a plastic case. It is thin and narrows down to the bottom. You can pick out from the three plastic grey combs to get the appropriate length of facial hair. About half way down you will find a blue dial that aids in selecting the length. The best part about is the vacuum system inside the device that takes care of all the hair. This feature separates it from other beard trimmers because it has a strong pull system that takes care of all the hair.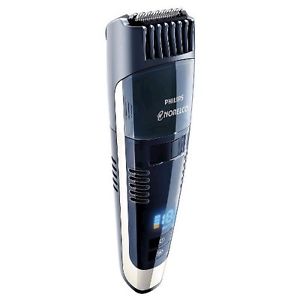 The plastic transparent reservoir gathers the facial hairs that you cut. It is very useful because you do not have to clean the hairs or the sink. You have to open up the end and drop all the whiskers in the trash.
Blades
The blades of the Norelco 7200 come with lift and trim technology that helps achieve a precise shave. They are self-sharpening and they will always feel like brand new because of this quality. The blades are perfect for those who have sensitive skin. Many blades that contain nickel cause skin irritation.
There are twenty various settings to get you your favorite look. If you are someone who is tired of uneven facial hair because of using scissors or other trimmers, you should try this. You will get all-over even results. It is a skin-friendly and easy-to-use solution. Scissors can be dangerous for the skin as they are sharp.
Maintenance
It is not waterproof but that does not mean that maintenance is a challenge. You have to take the head of the beard trimmer and the combs and clean them under running water. It will also get rid of the facial hair that the vacuum did not gather. You have to wait for the head to dry before you put it back on the device. Wipe off the combs with towels. The package includes a cleaning brush which will help you to keep your device ship-shape.
Conclusion
Norelco has five famous beard trimmers that goes side by side and consumers sometimes get confused on which one to buy. They are the 3500, 5100, 7200, 7300 and 9100. The 7200 and 7300 are the ones that comes with the vacuum to take care of the mess. All five of them will make sure that you get positive results after each trim.