PHILIPS SERIES 7000 BT 7202/13 BEARD TRIMMER REVIEW
3 min read
This beard trimmer from Philips has a potential of being one of the best beard trimmers and it will definitely make into the "Top 10" list. You should not be able to tell much from its name as it says "BT 7202/13" so here is a small description of the product. It comes with a vacuum which makes cleaning up quick and easy. Users love it and it has a high rating compared to other beard trimmers from the manufacturer. It also gets rid of the confusion whether you want a cordless or a corded beard trimmer because you can use it in both state.
Related articles about PHILIPS SERIES 7000 BT 7202/13 BEARD TRIMMER REVIEW
Philips QT4011/15 Pro Skin Advance Trimmer Review
Braun Series 9 VS. Philips Norelco 9000 Series
Philips Qg3364/49 Norelco Multi groom 5100 Kit Review
Design
The device is black and blue in color. As mentioned above, you can use it without or with cord. It is for dry trimming only and you do not have to oil it. There is a cleaning brush which can aid in maintenance. It has a precision trimmer and you can wash the heads. You can take it anywhere as it can function on worldwide voltage. You will also know when you have to charge it because there is an indication.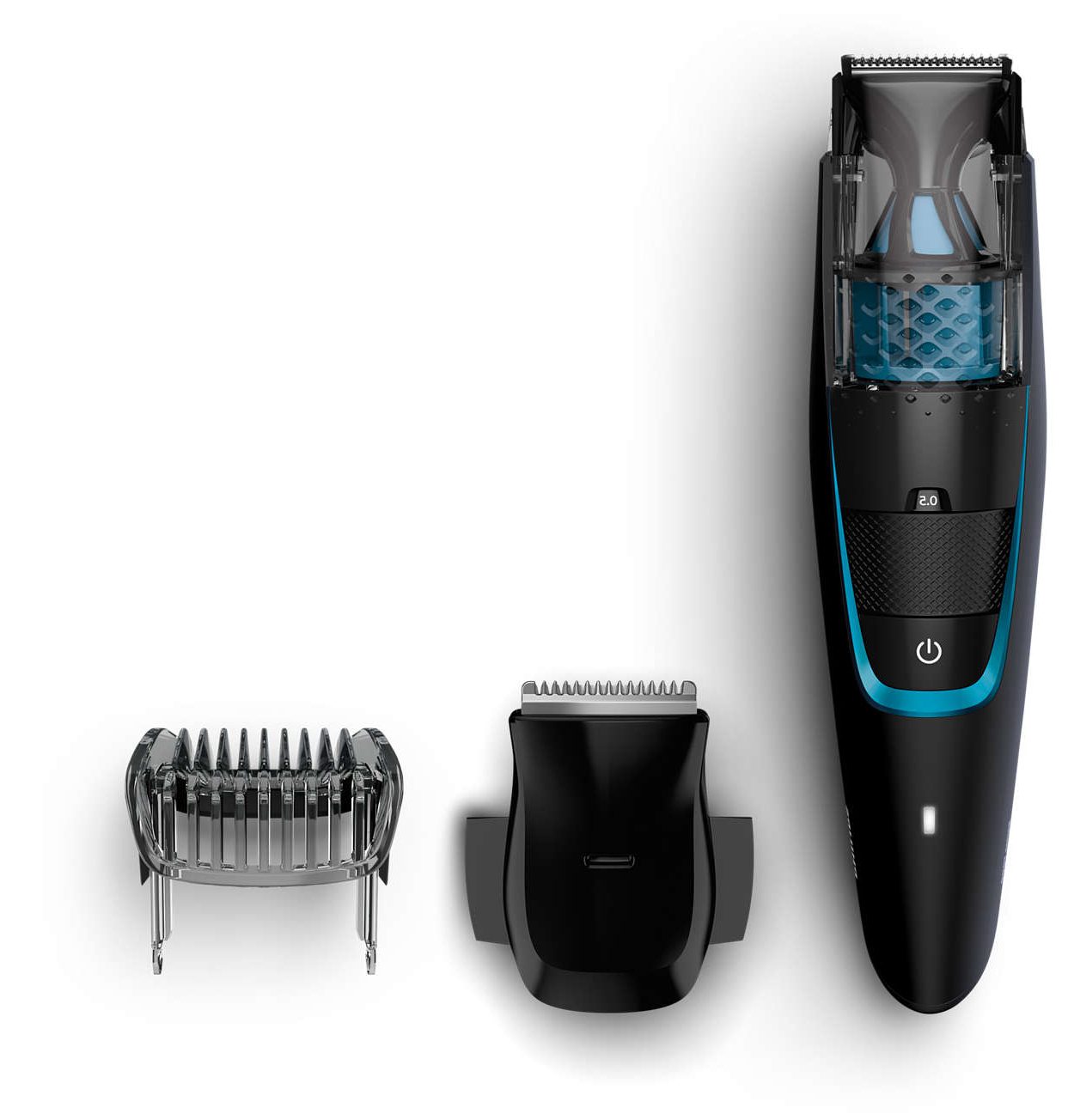 The tool has the capability to gather more than 90% of the hair. That means you will not have to clean up after the trimming session is complete. If previous trimmers caused you trouble because you had messy and hair sink and counters, this should be perfect for you.
Performance
It has a lot of other important qualities than just being a beard trimmer with the vacuum system. The device is sleek and slim and can work without maintained. The blades are double-sharpened so they sharpen themselves by brushing against each other. If you want to clean them, take them off and rinse. You should get rid of the stray hairs from the chamber so that it can perform at its peak level.
You can shorten the duration of your grooming session and save time because it is fast. The stainless-steel double-sharpened blades work rapidly. It is an effortless task to get any beard style you desire using this device. There are 20 different length lock-in settings that you can utilize according to your needs. That is why you have a lot of option for customization.
Product advantage
If you charge it for one hour, you can use it for 60 minutes. It works as both corded and cordless. The vacuum system collects hair. It has 0.5 mm precision. The instructions manual is easy to understand if you have a problem, you can refer to that. The indicator tells you whether you should take the plug off or let it charge. If you use it as a corded device, you will have lots of freedom as the cord is six feet in length. You can shape the jawline and pay attention to details.  It is noiseless and you will not hurt your face if you use this.
Product warranty
It comes with a warranty of two years and a satisfaction guarantee for 45 days.