Remington HC 5550 Precision Power Haircut and Beard Trimmer review
3 min read
If you do not like visiting the barber often and paying hundreds of dollars for haircuts, facial hairstyles and other grooming activities, you should buy the Remington HC 5550. It comes with a lot of great features such as rubberized handle and combs that are easy to take off and self-sharpening blades.
Related articles about Remington HC 5550 Precision Power Haircut and Beard Trimmer review
Panasonic ER GB80 S versus Remington PG 6170 The Crafter
Remington Virtually Indestructible Haircut and Beard Trimmer Model: HC 5855 Review
Remington MB 4045 Beard Kit Review
Hair length combs and settings
The device comes with two attachment guards that the user can alter into 15 different settings. It is accompanied by a stubble comb. The comb will give the user a cut of about half inch which is appropriate for most people. If you are trying to get a short stubble, you have to get to 0.5 mm or 1 mm.  The problem is that it is not possible with this beard trimmer so you cannot get the short stubble look with this. You can still manage to get a shadow look with the length settings alteration. The good news is that the trimmer works perfectly for thick beard. Many trimmers fail to work on dense beards. You can get a close shave similar to a clean one. It will not be as smooth as the typical razor though. If you are not being careful, you can damage the combs easily. They are not solid, strong or compact. In brief, the combs are not made of high-quality materials. Even though they are easy to take off and put them back on, you can break them in the process.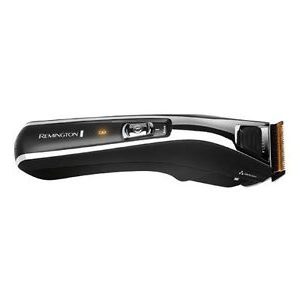 Cleaning and Maintenance
As mentioned before, the blades are self-sharpening so you do not have to worry about oiling them or maintaining. They come with titanium coating which lets the user get precise trim without any beard pulling. You should not apply a lot of pressure as the blades are extremely sharp. You can clean it under the tap in running water. You should not put the whole trimmer in water.
Battery life and Power
You can use it as a cordless which is a plus point. The problem is that if you use it as a wireless device, it will lack power. Therefore, for best results use it as a corded beard trimmer. If you think that you are going to just use it for a minute for a small touch-up, then cordless use is fine. Its battery life is less than many other trimmers in the market. It will operate for 40 minutes. There is no indication whether it is fully charged or not. You have to plug it in and few hours later, hope that it is going to work fine without the cord. The best part is that you can charge it with a USB so you do not have to carry the charge while you are going for tour.
Conclusion
It works perfectly when you plug it in and use. It is an unchallenging job to clean and maintain it. You do not have to anything with the blades as they are self-sharpening. The only problem is that the combs are of inferior quality.