Andis Slimline Pro Beard Trimmer Review
2 min read
We all know about Andis's reputation when it is about being a corded beard trimmer for professional use. The Slimline Pro is one of their creations but it is cordless and somewhat different from their typical devices. It is slim and sleek just like the modern beard trimmers. You can use this for both personal and professional use. A lot of barbers use this and most users are professionals.
Related articles about Andis Slimline Pro Beard Trimmer Review
ANDIS Slimline Pro Li Cordless T-Blade Beard Trimmer Review
Andis Slimline 2 Cordless Beard Trimmer Review
ANDIS Professional Barber Combo CL-66325
It has another similar product which is Slim Line Pro Li which is much more expensive. Being pricier than this one, you would expect that to be more functional. The surprising part is that this one has more customer satisfaction and people love this more than that. One fact to note is that, the Li one has some special and unique advantages over this model but users make their choice.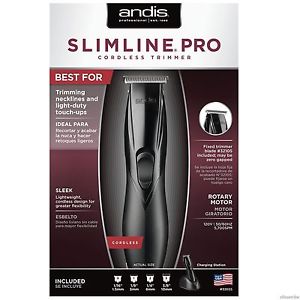 The beard trimmer is well-made and it can provide sharp and clean results. When you first open it, you will have to adjust it. If you are a barber, you should know this. Andis is not suitable for beginners because they can find some matters to be difficult. You would love this if you are a professional because it can work all day long and you can work on as many clients as you want and it will not die. At the end of the day, you can plug it in. It has a lot of positive reviews compared to other Andis beard trimmers or clippers such as Pivot Pro T-Blade Beard Trimmer, 19-Piece Hair cutting Kit, 14-Piece Cord or Cordless Mustache and Beard Trimmer etc.
It works perfectly around difficult areas. The motor is powerful and the operation is silent. You can use this on children to cut their hair. It is also applicable for men's hair and you can create any design you want. It will also shape the sideburns flawlessly. It is soft to the skin. If you open the top part, a plastic region will come in sight that goes over the pivot motor. When you take the blade off, the pivot starts running so it is not a battery problem.
They give warranty so if there is a problem you can easily return them. Therefore, keep your resets. Refer to the instructions manual for any questions. The booklet is clear and you can find out all the details about it. You can rely on the device for grooming purposes. If the battery dies you cannot plug it in and continue usage. It is only for cordless use. You have to plug it in for an hour to make work for long hours.