BaByliss 7847u I trim stubble beard trimmer review
3 min read
The product gets a lot of positive reviews and it has a lot of customers. That does not necessarily mean that it is a product of superior quality. Instead of this, BaByliss has other beard trimmers that are better, faster and easier to use. If you are thinking of getting something from this company, you can go for the BABYLISS 7107 U for men bead trimmer because it provides better results at an affordable price.
Related articles about BaByliss 7847u I trim stubble beard trimmer review
BaByliss for Men 7180 U Red/Blue (Mini Trim) 3-in-1
Babyliss 7056 CU 8-in-1 Grooming Perfection Review
BABYLISS SUPER STUBBLE FOR MEN TRIMMER REVIEW
When you are out there in the market thinking of buying a stubble trimmer that is first-rate and marvelous, be ready to spend more than 50 dollars. If you do that, you will have a beard trimmer that is going to work completely flawless and will be easy to maintain. The best part is that you can wash it under running tap water. It not one hundred percent waterproof though. You will find the features on the box, it has thirty different lengths for cutting.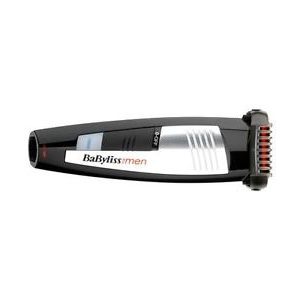 Battery life
Other beard trimmers can work up to an hour without the cord. The problem here is that it lasts for only thirty minutes. If you have dense beard or you need to go over the same place again and again, this time is not going to be sufficient. After it runs out of power, you can use it with the cord. It does not come with the option of quick charge that you can use during emergencies. If you are someone who requires this feature you can go with the Super Stubble XTP and the Super Stubble from BaByliss which also runs more than 80 minutes with full power.
Blades
The manufacturers use advanced blade technology. The cutting blades are engineered with precision for a sharp cut. They are sharp so you should not put too much pressure. You can remove the comb for shaping and edging the hair line. The product can work smoothly through rough and dense thick hair. If you want to take control of your stubble, the BaByliss 7847u is the one for the task. It is also great if you have sensitive skin.
Pros
As mentioned above, it can take care of the thickest and roughest beards but will take time. You may have to go over and over the same place but it will take care of the beard. You can get the everyday stubble look and it is perfect for sensitive skin.
Cons
It becomes messy after you use it. There will be facial hair on the sink, floor and your hands. You cannot use it after you are ready or while travelling. Besides, the battery power does not even last more than thirty minutes. You cannot expect to complete your trimming necessities during travel with just half an hour. You will get facial hair on the clothes that you are going to wear outside. That is why it is better to use it before the shower in your old clothes so you can change to proper outfits before leaving the house. It is also fragile and not durable. If you drop it once, you should know that it is time to purchase another one.