Conair GMT 189 13-piece Beard Trimmer Review
2 min read
It is an all-in-one moustache and beard trimming kit that you can get from Conair. Conair is already well-known for manufacturing hair care gadgets and tools such as the touch paddle hair brush, hair dryer and beard trimmers. They also manufacture items which make daily life easy such as the hand-held fabric steamer and clock radio. Their products receive high ratings from its users and their products are not expensive. The GMT 189 is a 13-piece kit but the price is low compared to other beard trimmers which does even have more than one or two pieces.
Related articles about Conair GMT 189 13-piece Beard Trimmer Review
The Conair I Stubble Beard & Stubble Trimmer Review
Conair Flex Trim Beard and Mustache Trimmer Review
Conair 2 Blade Beard Trimmer (Twin Trim Battery-Operated)
You will get the detailing blade that will help with precision and styling. You can shave close to your skin using the shaver foil. It is something most men search for in a beard trimmer because then they do not have to buy a separate foil shaver. There is a nasal and ear hair trimmer which helps you stay well-groomed and clean. You will also be able to cut off hair from the head because there is a hair clipper blade. There are three jawline combs to design the jawline and five-position comb that is adjustable for changing beard length. Also, at this price, you will find a mustache comb which is missing in most beard trimmers in the market. You will get a cleaning brush, adapter, storage pouch and appliance oil. When you look at reviews of some of the most expensive and posh beard trimmers, users mostly say that they love the structure and function of the tool but they wished the beard trimmer came with a pouch for storing it or the accessories. There will be no such problems with this since you get the pouch for storage.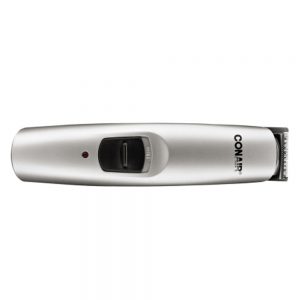 You can give it as gift to any important men of your life as it comes in a nice box. It has all the pieces a man of any age needs to stay clean, stylish and well-groomed. The blades are made from stainless steel so men with delicate skin can use it without any worry. There is no chance of cutting or hurting the skin. It comes with a warranty of two years so if you face any problem contact them in their phone number. Before first use, you have to plug it in for charging for 12 hours. Many users complain that the charge does not last long. To avoid this problem, do not forget to plug it in after every grooming session. It is suitable for those who want to get the stubble look.