The Conair I Stubble Beard & Stubble Trimmer Review
3 min read
Conair has been manufacturing men grooming equipment for a while now. Their target is to stand out from the other companies that manufacture men's grooming equipment, particularly trimmers and shavers.
Related articles about The Conair I Stubble Beard & Stubble Trimmer Review
Conair Flex Trim Beard and Mustache Trimmer Review
Conair Battery Operated Model: GMT175RCS Men's Beard Trimmer
Conair 13 pieces Model GMT189 GB Review
Appearance
The device has a different design that makes it look smart. There is a V shaped design at the front and the whole body is sleek and black. There is a power button at the end of the V-shaped figure. On top of the power button, you will get a display that is also black in color. You will be able to see the percentage of charge such as 70% written in blue color. If you see it from the side, you will see it is curved because that makes it easy to grasp and get the precise look easily. There are two more buttons with a plus and minus sign. That indicates the length settings.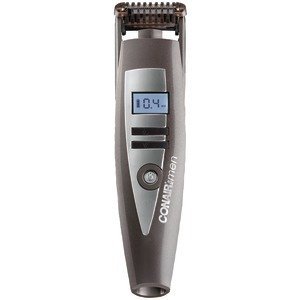 Features
You can use this cordless and rechargeable shaver as dry or wet. You can utilize it for shaping sideburns, mustache or beards. You can pick out from the length settings and choose how you want your facial hairs to look.  There is a charger stand black in color which lets the trimmer sit easily on it. It saves a lot of space in your bathroom. You can use it from there.
Blades
The company manufactured this trimmer using innovative blade technology because they are electro-chemically made. In that way, they are strong and durable while being sharp. You can control the speed level and make adjustments from 0.4mm till 5mm. There is also built-in memory to remember the last settings when you turn it off. The settings increase by 0.2mm. It starts with 0.4 and 0.6 and goes all the way up to 5.0. There is a comb that aids the user to get the style they want. The other function of the comb is to protect the skin from cuts. You can remove it if you do not need it.
Maintenance
It is not difficult to maintain because the cleaning is simple. You can put it under the running tap water and get the hairs out. You can use it in the shower because it is waterproof. If you drop it in the sink or bathtub while it is full of water, there is nothing to worry. If you want you can apply any extra product for skin you can use soaps, creams, foams or gels. It will help if you have sensitive skin. Make sure to clean your trimmer carefully so that no gel or foam is stuck there. If you can maintain it, it will last a long time.
Battery life
It comes with a lithium ion battery that is reliable and rechargeable to let you have the perfect experience in wireless usage. Even when the battery life is almost zero percentage, it will still work with a lot of strength. You can use the quick charge feature for emergencies. Remember to charge it after using the emergency power so that you can use it properly next time.