Journey's Edge Five Piece Hair and Beard Trimmer Grooming Set (Black)
3 min read
Journey's Edge receives high ratings from various users for manufacturing home and kitchen appliances. They make a lot of various products such as pocket tool, flashlight, macaroon kit, garden tool case, kerosene electric night lamp etc. If you have bought any of their products, you would know about their perfect quality and excellent service. Their items are also reasonable in price so if you have a low budget, you can always pick their products. In fact, if this is your first time buying a beard trimmer, you can buy this because of the small price tag. It is not going to be wise to buy an expensive one being a beginner. You can also buy this as a substitute or a travel trimmer. It is small and lightweight so you can pack with you.
Related articles about Journey's Edge Five Piece Hair and Beard Trimmer Grooming Set (Black)
Wahl 9854-600 Lithium Ion All-in-One Trimmer Review
Philips Norelco BT5275/ 41 5100 Beard Trimmer Review
Wahl 9818 Lithium Ion Stainless Steel All-In-One Groomer Review
Appearance
All the attachments including the device is fully black in color. The box includes with adjustable blade guard, styling comb, a pair of scissors, cleaning brush for blade, and the device itself. The trimmer is compact and lightweight so you can use it without trouble. If you are trimming your head, you can use the comb. At this price, you get a pair of scissors that can help during various kinds of trimming. It is surprising that most beard trimmers do not come with a beard comb. The packet of this beard trimmer contains this comb so you can brush it for an even look. People who do not use the brush ends up with inconsistent length of facial hair.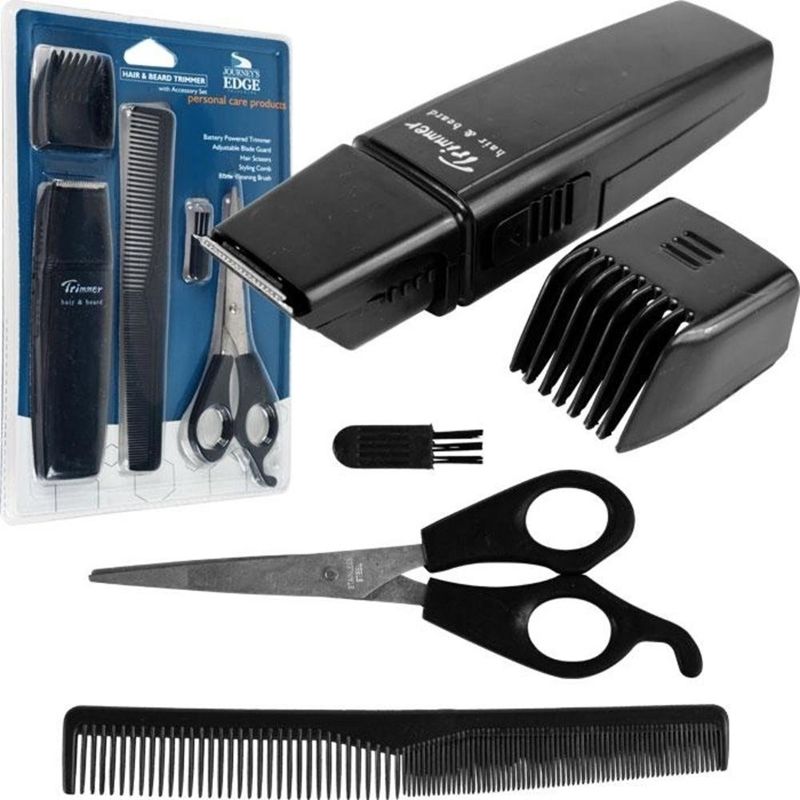 Trimming and styling the beard is something that most men face difficulties. Preserving your beard is really significant because facial hair grows irregularly with dissimilar lengths causing them look like an untrimmed beard and messy. For maintenance, you will need these items, the good news is that they all come in the packet during purchase
• A beard Comb
• Pair of cutting scissors
• Beard trimmer
Usage
You can use it as a cordless one because it runs on a battery. The battery does not come in the box so you have to purchase it separately. Remember to put in new ones and make sure that every time you use the beard trimmer it is clean. Do not turn it on without cleaning the dust, debris or other particles. Since other members in the house will use it, you can get two instead of one so that you do not have to share it.
Blades and Maintenance
The blades are made from steel and are extremely sharp. Use the cleaning brush to keep the blades clean. The trimmer can take care of other parts of body hair as it is made for multi-grooming purposes. There will be no pulling or tugging of hair. You can use beard oil so that you can easily trim your beard and get the look you want. Since it does not come with a box or a stand, you must keep all the attachments safely.