Wahl 9854-600 Lithium Ion All-in-One Trimmer Review
3 min read
Wahl has always been famous for grooming equipment for men. The All-in-One is one of their products to help men get the look they want without hassle. If you face a lot of trouble with your beard and need the perfect, Wahl can be the solution. They have been helping for more than ninety years to make grooming simple and easy. The device is one of the most powerful beard trimmers you will come across.
Related articles about Wahl 9854-600 Lithium Ion All-in-One Trimmer Review
WAHL Beard Trimmer Model-9918-6171 Review, (Cord or Cordless)
WAHL Mustache and Beard Battery Trimmer Review, 12 pieces
Wahl Groomsman Pro 9860-700 all-in-one Grooming Kit
Cutting Quality
The way it cuts is suitable to give you a finished look to start your day. Customers praise the way it trims on both mustaches and beards. The way it cuts is so comfortable that they used it to shave their head as well.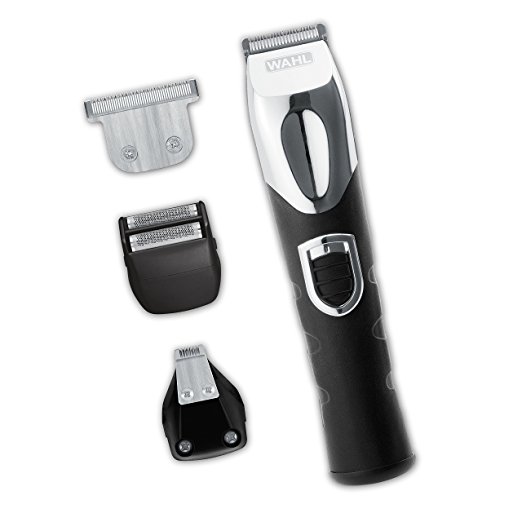 Accessories /Attachments
Most beard trimmers do not come with too many attachments inside the package. They just come with the device and the cord. Some people believes that this machine comes with too many accessories that are difficult to remember and keep in place.  Many people like the fact that it comes with so many parts. Here is what the customer will find inside the package
1. Trimmer (device)
2. Cleaning brush
3. The blade
4. Storage and charging base
5. Detailing blade
6. Dual shaver
7. Instructions and styling guide
8. T Blade
9. 3-beard guide combs, stubble, full and medium
10. Charger
11. Blade oil
12. 6-position guide
13. T-blade guide combs 3/8", 1/4" and 1/8"
14. Beard comb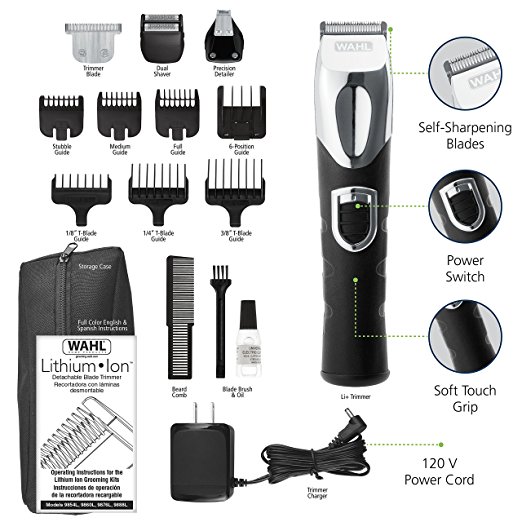 Battery Life
Different users have various opinions. Some said that the charge lasts a long time. You only have to charge it for an hour. It has a running time more than many other expensive beard trimmers. It will work for two hours. The device itself lasts for more than few years. You do not have to spend money on beard trimmer again and again once you own one of these.
Overall Quality
It does not cost much so the users get the value for money. It comes with a warranty of five years which a lot compared to other manufacturers. It is not washable. It is big in size so it is easy to hold. You have to take care of the blades because they can rust and the organizer tray is inexpensively made and badly designed.
Notable Features of the Beard Trimmer
The Wahl All in One Lithium Ion Beard Trimmer model 9854- 600 is a desirable device for many men because of its excellent features.  It can help trim hair of any part of the body which many beard trimmers fail.
The features are:
1. Powerful Lithium Ion battery that makes it one of the strongest beard trimmer in the market.
2. You can get a quick charge with just five minutes to make it operate for a trim
3. It will not lose charge or battery life when it is in dormant state
4. It will shut down automatically when the battery is full. That is why it has a long life compared to many beard trimmers because it has the auto shut down mechanism
5. Accompanies 3 beard guides: Nose, ears and eyebrows detailer along with 3 guide combs
6. Comes with a warranty of five years whereas many beard trimmers provide a 2-year warranty