If you have to go to the barbershop for a trim every time, you should opt for this solution. Get the Wahl 79300 for everlasting strength and durability. If you can take care of this device, it will last more than a decade. The best part is that it is easy to use and you can carry out any style you want.
Related articles about WAHL Model 79300 Color Pro 20 Pieces (400W) Beard trimmer Review
Common Problems with Wahl Trimmer
Wahl Life Proof Rechargeable wet / dry beard trimmer/foil shaver Review
Wahl 9854 versus Remington MB 4040
Design
It comes with a soft touch grip and the shape will fit in your hands perfectly. One frequently asked query is whether to purchase cordless or corded beard trimmer and which will function better. The truth is that the corded one can have more benefits than a wireless one. Here are some reasons to assist you in determining why corded is the best. The corded device in this case, the Wahl Color Pro will be strong enough because of the fact that it receives electric energy in a straight line from an outlet, and will never run out of power during your trimming session.  On many instances, you will want to trim in the morning before rushing to your office or workplace or in the evening if you are running late for a party and social outing. While you are in a hurry, you will not have to delay for the corded beard trimmer to charge as it runs directly from the power outlet. They also do not get damaged quickly because they do not require a battery that charges. You can trust this as Wahl products are tested and tried by professionals and experts.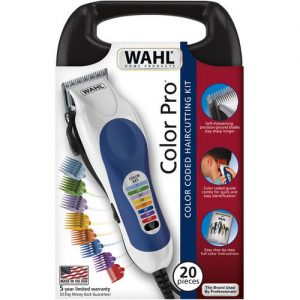 Blades and Maintenance
The blades come from high-carbon steel. If you research or ask an expert to find out which is better: stainless steel or high carbon, the second one will win. That is why Wahl used this in the beard trimmer so that you can have a high-quality shave every time. All you have to do is, clean off the hair with the cleaning brush and add a drop of oil to keep it brand new. If it was stainless steel, you would not need to oil them but the sharpness and quality will be poor. The blades are sharp and can result in precise shave every time. While you are cleaning it, make sure that it is not plugged in. The blades are self-sharpening so you do not have to worry about their sharpness. They will stay this way even more than a decade if you remember to oil them.
Conclusion
As you can see, that it is an affordable beard trimmer that will help you style your beard, moustache and sideburns anyway you want. The motor is very powerful and it is corded so you do not have to worry about its strength.  You will be safe from cuts and wounds because the blade teeth guarantee safety. The best part about beard trimmers from Wahl is that you can find their accessories and attachments in their online store.