If you are looking for a simple and high performance beard trimmer, you should choose this one from Philips. This model has no extra features like other products from Philips such as the Turbo boost button, integrated vacuum mechanism or being waterproof. It has a lot of advantages for its users which we will discuss below.
Related articles about Philips QT 4000/16 Beard Trimmer Review
Common Problems with Philips Norelco Beard Trimmer 3100
Philips Norelco Beard Trimmer 3500 QT 4014/42 Review
What's in the box
• Beard trimmer
• Beard Comb that comes with 10 built-in settings for length
• Cleaning brush
• Adapter
Product features
• Built-In Length Settings: There is no need to have extra attachments so there is no hassle. There are 10 settings for the user to select to get the desired length, from 1/32-inch (1.0mm) stubble to a 13/64-inch (10.0 mm) beard. The device accompanies a locking feature that stops comb movement for precise cutting.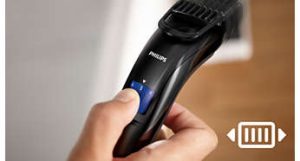 • High Performance: The device's blades are crafted from fine chromium steel; the hard-wearing blades are self-sharpening for enduring quality and there is no need to oil them.
• Skin-Friendly: Rounded tips and comb are so soft that they stop skin irritation and the blades does not require any maintenance. Users with sensitive skin should opt for Philips products because they are soft, skin-friendly and does not cause any redness or pain. They are gentle.
• Rechargeable Battery: It will work for 45 minutes with a lot of power if the user plugs it in for continuous 10 hours.
Now that you know about its features and what you will get in the box, let us look at it in details. The advantage could be that you can speed up your trimming session because the device works fast. You do not have to go for the same place more than once. The blades are going to be safe for the skin so you do not have to worry. All you have to do is move the dial, there is no need to manually put in or remove attachments.
If you are looking at the disadvantage, one of them could be that it is not waterproof. While it says that no maintenance is required, you do have to wash the heads by opening it completely from the tool. You have to make sure that it is fully dry before attaching it back again. The other problem could be that the battery does not last for a long time. It is also not strong or durable, therefore you can break it easily. You should know that if it runs out of power, plugging it in will not make it work. It must be fully charged before application. It also can make a mess because there is nothing to catch the stray hairs.