BABYLISS FOR MEN 7107U PRECISION BEARD TRIMMER REVIEW
3 min read
BaByliss is an important manufacturer in the men grooming industry. The beard trimmers they produce are of high-quality and the users love it for their consistent power. If you are on a budget, this should be helpful because they do not like to empty men's wallets. It is surprising for many people how the BaByliss 7107U has so many features and provides a high-level performance and precise result at this price. It is also not something you will hear in everyone's mouth because it is not overrated. In fact, it is underrated. That is why, only men who use this are praising it because of its superior service.
Related articles about BABYLISS FOR MEN 7107U PRECISION BEARD TRIMMER REVIEW
BaByliss for Men 7180 U Red/Blue (Mini Trim) 3-in-1
Babyliss 7056 CU 8-in-1 Grooming Perfection Review
BABYLISS SUPER STUBBLE FOR MEN TRIMMER REVIEW
Combs and Different Lengths
The BaByliss 7107U will help you get any look such as clean shave, short stubble or full beard. You can design your facial hair any way you want. You can do this because of the combs that come with it are interchangeable. There are five settings to cut at various lengths starting from 3 millimeters which is the lowest to 15 millimeters which is the highest. You can adjust the comb guide at increments by 3 millimeters. After removing, the user will get a close shave that will keep hair of about 1 millimeter.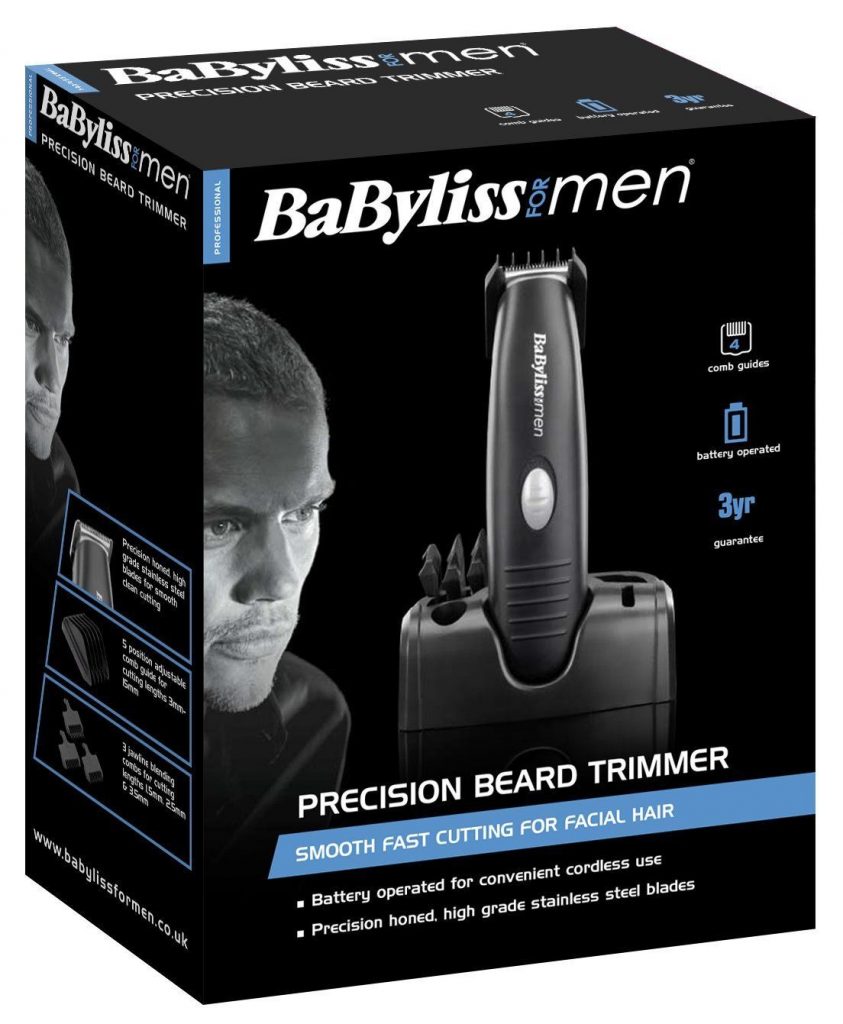 In the box, you will find three jaw line and side burn blending combs. The range of cutting is 1.5 millimeter to 3.5 millimeter and you can adjust in increments by 1 millimeter. The jaw lines combs is smaller than the other to make fine lines beside your sideburns to help you achieve the perfect look.
Storage Stand
If you are someone who keeps on losing things, this is going to be useful. The stand comes with the beard trimmer and it will prove to be an important accessory for your grooming needs. It will hold the lubricating oil, cleaning brush and the comb guide so that you have everything in place. You do not need to purchase it separately or keep losing your grooming supplies.
Maintenance
The blades are diamond-sharpened. You can clean them by easily removing them. Remove the comb guide that you are using, wash it under the running tap water and let it dry. The next step is to get rid of the cutting head and clean all the strands using the brush for cleaning that comes along. If you are using often, there is no need to oil it. If you have any problems or questions regarding the product, you can always check the instructions manual.
The beard trimmer was intended with ease of use and super performance in mind. It comes with a compact design feels light on the hands. It runs on battery which permits the users to get a cordless usage.
What you will get in the package
• Storage stand
• The device itself BaByliss 7107U for Men beard trimmer
• Cleaning brush
• 3 blending combs
• 2 double A rechargeable batteries
• Instructions manual
Pros
1. There are various cutting lengths so that the user has no difficulties.
2. It is compact and lightweight at the same time which makes it easy to use and go over your face.
3. The box includes all the necessary equipment and the most important one is the fitting storage stand
4. It does not require high maintenance
5. Affordable