Panasonic ES RF 31 Wet and  4-blade Beard Trimmer
3 min read
When you first receive the device in your hands, you will get impressed by seeing how well-built it is. It is solid and compact but is lightweight. It is suitable for dry and wet shaving. It comes with an ergonomic design which makes it easy to hold and use. The only problem can be that it is missing a place to keep your thumb which can make you lose balance and drop it. It comes with a cartridge, cleaning brush, carrying bag, instructions manual and the device itself.
Related articles about Panasonic ES RF 31 Wet and  4-blade Beard Trimmer
Panasonic ER GB80 S versus Remington PG 6170 The Crafter
Panasonic ES 3831 K Single Blade Travel Beard Trimmer
Ease of use and operation
The company claims that this beard trimmers comes with the sharpest blades possible. Therefore, while you use it, you will get precise results and the best experience in shaving. Do not put too much pressure, you will get cut. It has four blades as you can tell from the name instead of three or two. The name is Nano blades and sits at a 30 degrees' angle which lets the beard trimmer slide across the skin. The motor is powerful and the top part pivots at 8 mm side to side and up and down.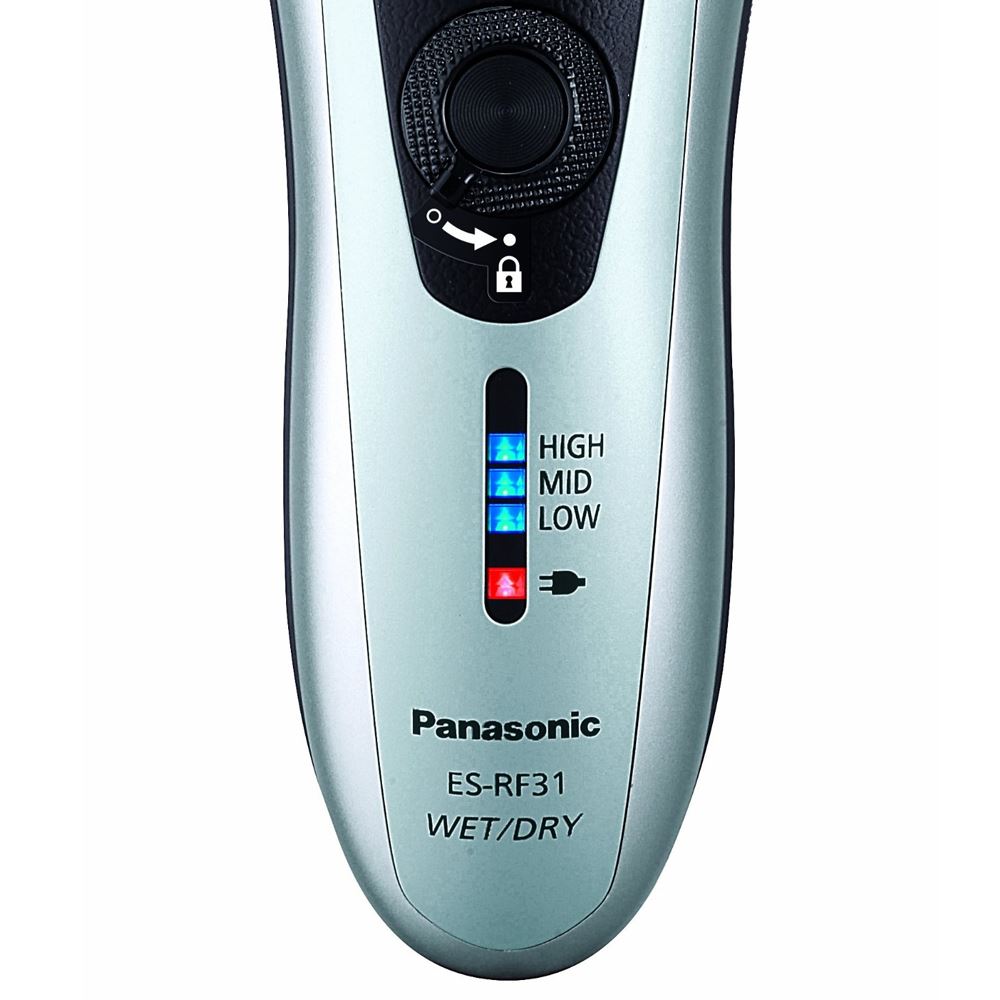 Results after trimming
You can get excellent results whether you are using dry or wet. You will get a close shave in both settings. The electric trimmer is perfect if you want to give yourself the stubble look. You should pay attention to difficult areas such as under the nose because you can miss the spots if you are not noticing. If you have sensitive skin, you cannot miss this one. It will not pull or tug on skin and makes sure there is no friction. If you are someone who gets razor burns, you should be able to utilize the wet shaving for skin protection.
Battery and charging
You can charge it completely under 60 minutes and it is one of the fastest charging beard trimmer in the market. It has a LED light indicator to tell you how much battery life is remaining. You can use it for weeks before recharging the device again.
Maintenance
It is fully waterproof, therefore cleaning it is not a challenge. You can use the brush that comes in the package. It takes a minute to clean the device. You have to replace the blades every two years. Even if you use it for wet shaving, cleaning is not a chore.
Features
There are four cutting blades that makes it stand out from others. It comes with a slide-up trimmer for facial hair and sideburns. If you want to travel, this is going to be useful since you do not have to charge it before two weeks. Most beard trimmers are water resistant but this is waterproof. Do not use the charger in the shower though. Use it as cordless when you are in the shower or going for wet shaving. If you are in a rush, this does the job of quick beard trimming.