There are a lot of hype about the Philips Norelco beard trimmers because of their special features such as the turbo boost button or the built-in vacuum system that takes care of the stray hairs so you do not have a mess in your sink. Many other companies have features like these in their beard trimmers but Philips succeeded to stand out because it has been manufacturing high-quality products for a long time. While the Norelco beard trimmers can be expensive because of their special features, you can still manage to get a Philips beard trimmer even if you have a low budget. The quality will be superior and the trimmer will last a long time if you can take of it. Here is a review of the BT 1000.
Related articles about Philips BT 1000 Pro Skin Beard Trimmer Review
Philips BT405/13 Series 1000 Beard Trimmer Review
Philips Norelco Beard Trimmer 9100 (Model BT9285/41) Review
PHILIPS SERIES 7000 BT 7202/13 BEARD TRIMMER REVIEW
Appearance
If blue is your favorite color, then do not wait to purchase this one. It comes in blue color with black button. It weighs slightly less than a cup and it is compact. You can hold it easily without the fear of drop ping it. It is seven inches in height. It is thin and narrow so you can grip it properly. The comb is black in color which gives it a professional look.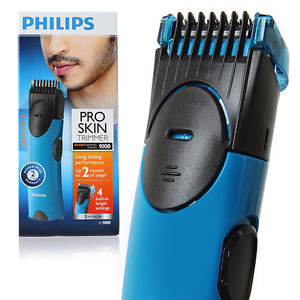 Blades
The blades of the Pro Skin BT 1000 come with technology and mechanism that aids in achieving a precise shave. If you can take care of the blades, they will always feel like brand new because of this quality. The blades are perfect for men with sensitive skin. If previous beard trimmers caused redness or skin irritation and you need a reliable one that is skin-friendly, you should opt for this.  Many blades that contain nickel cause skin irritation. You never have to worry about oiling the blades. They are ultra-sharp to get you the precise look you want.
There are length settings to get you your favorite look. You can pick out from 1 mm, 5mm or 7mm. You can also get a stubble if you do not use the comb. If you are someone who is tired of uneven facial hair because of using scissors, you should try this. You will get all-over smooth results. It is a skin-friendly and easy-to-use resolution. Scissors can be dangerous for the skin as they are sharp. Here the blades are sharp but the tips are round for safety.
Maintenance
Take the comb off. Use the cleaning brush that came along with the beard trimmer. Pop the trimmer heard open and dispose the stray hairs in the garbage. That is how easy it is!
Usage
To start using it, open the battery cap at the bottom and gently insert the batteries. You do not have to worry about cords or charging it so that it does not lose power. It is convenient and easy. The batteries are also not expensive. You can trim for months using the same ones. They will keep your beard tidy and clean. Taking care of the cord can sometimes be a hassle because you cannot twist it.
Warranty
The product comes with a warranty of two years worldwide.