Andis Superliner™ T-Blade (with Bonus Shaver Head) Beard Trimmer Review
2 min read
When you are in need of a super powerful corded beard trimmer, do not look here and there. Pick this one from Andis. The company is already well-known through generations for being one of the best grooming tools for professionals so getting this would be really effective for beard trimming.
Related articles about Andis Superliner™ T-Blade (with Bonus Shaver Head) Beard Trimmer Review
Andis BGR+ Detachable Blade Clipper Review
Andis Charm beard trimmer Review Model: 72265
Andis T-Edjer Professional Beard Trimmer and T-Blade Review Model: 15430
Product overview
It comes with a rotary motor for fading, outlining and dry shaving. The design is stylish, sleek and lightweight. The blades are removable and you can clean them with ease. You can also add other attachments for perfection. The motor is 120 V and it makes 5500 strokes per minute. The color is metallic silver which makes it even more appealing. If you use this professionally, your client will love the tool you are using. The trimmer is 5.25 inches in length which makes it easy to grasp to work on yourself or others. Since it comes in a gift box, you can present it to any one you admire: father, husband, brother, cousin, friend, co-worker etc.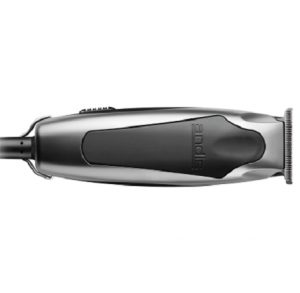 Product advantage
Being a product of USA, this beard trimmer will not fail you. It will try its best to maintain its American reputation by working at its optimum level at all times. You can get a Titanium foil shaver head which is an excellent bonus. Not only do you trim with this, use the shaver to meet your shaving needs. There is no need to purchase an electric shaver separately. It costs less than the T-Outliner and GTX T-Outliner. Being a corded one, you can always get full power and never run out of it. The cord is long enough to provide you the freedom you need. Maintenance is simple because there is no need to oil it. As you can tell from the name, it comes with the Andis's special T-blade.
The feel and look of the beard trimmers from the Superliner models are really nice and they turn out to have an eye appeal more than any other beard trimmers from this company. They have been in the industry selling people beard trimmers for a long time and they will give you value for money. The best part is that unlike regular beard trimmer found in today's market, it will not get hot. They are designed to be used on many clients on a single day. Be careful that you do not drop it. Even though it is durable, taking good care of it can make it last for years. It is a must buy.